You have 5142 weeks 6 days remaining for the course
Overview

0/1

Creating and Targeting Banners

0/3

Banner Lightwindow

0/1

Promo Schedule

0/4
Banner Bins
As we learned in How Do Banners Work, Banner Bins are simply containers to display banners in specific areas of your website.
Because they are so simple, they are pretty simple to create too!
Go to Banners > Banner Bin in the Admin menu.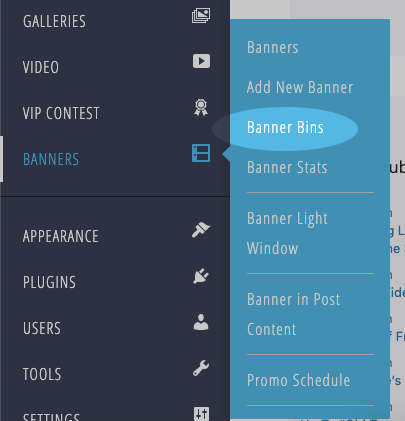 This will bring you to the Banner Bin listing page. You can create new Banner Bins on the right and see your existing Banner Bins on the left.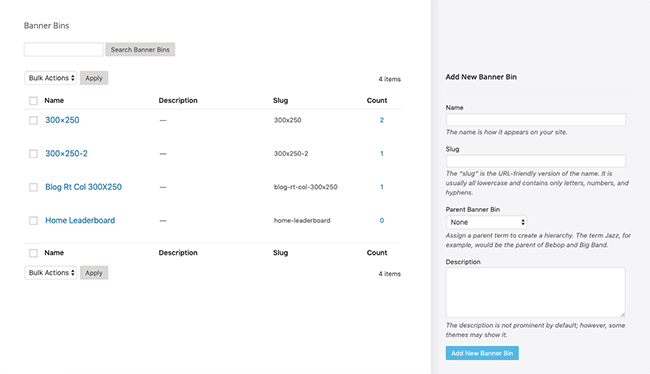 Creating a Banner Bin
Creating a Banner Bin is as easy as giving it a name and saving.  You'll want to give a descriptive name.  For example, I know I'm going to place this banner bin on my blog post pages in the right col.  I plan on putting 300 x 250 banners in this bin to display.  So I'll name it Blog Rt Col 300X250.  That way when I create banners, I'll easily know which bins to add them to.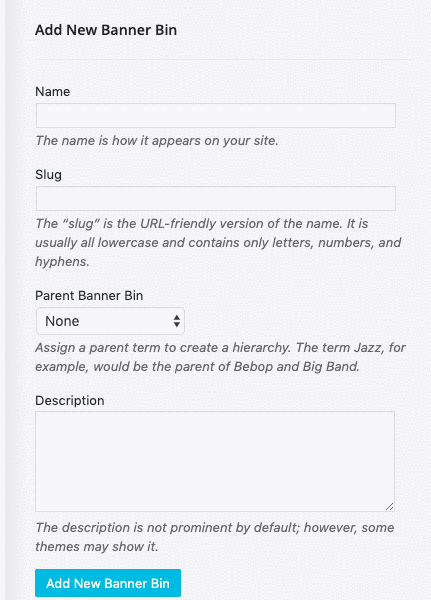 After you've created your Banner Bin, it will display in the listing.  Note that the "count" column refers to how many banners are in the selected Banner Bin.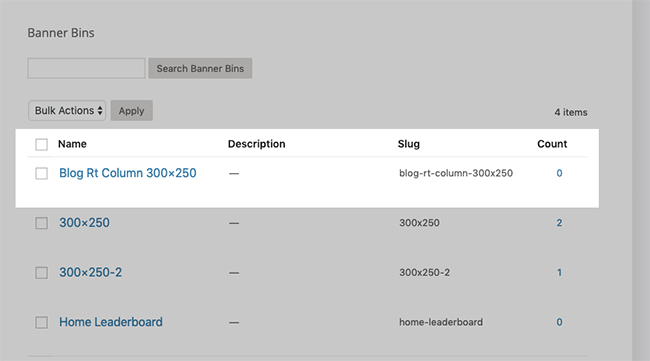 Placing Your Banner Bins on Your Website
You can place your banner bins on your website one of two ways:
Using Shortcode
Or using the Advertise Widget
Banner Bin Shortcode
You can place a banner bin pretty much anywhere on your website using shortcode.
The banner shortcode uses this format:
banner location="<banner-bin-slug>"
So a banner bin shortcode with the slug name footer would look like this:

The Advertise Widget (Advanced Users)
You new Banner Bin will not automatically start showing up on your website.  You have to use the Advertise Widget to show the ads within a Banner Bin.
Either ad a new Advertise Widget (or edit an existing one).  All you need to do is select the Banner Bin from the dropdown and save the Widget.
IMPORTANT NOTE:  The Banner Bin will not be selectable in the Advertise Widget until it has at least one banner in it.  This is to prevent empty slots on your website.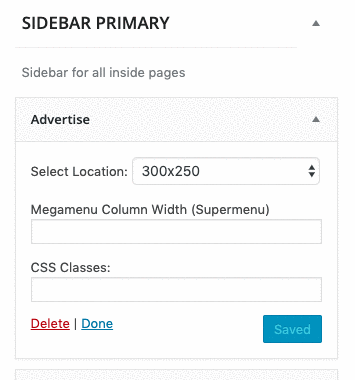 After you have saved the Advertise Widget, your new Banner Bin will begin displaying the banners you have added to it where you placed it!