You have 5142 weeks 6 days remaining for the course
Overview

0/1

Creating and Targeting Banners

0/3

Banner Lightwindow

0/1

Promo Schedule

0/4
Creating a Clickable Background
Clickable Backgrounds are background images that display on your website in place of your normal background.  Anytime a website visitor clicks on the background image, it will redirect them to a URL that you set.  A lot of times you may have an advertiser sponsor a specific event and you can use a special background with their imagery.  Clicking on that background would bring you to that advertiser's website.
To create a clickable background, navigate to Banners > Promo Schedule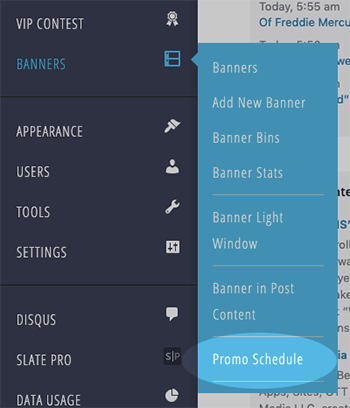 This will bring you to the Promo Schedule Component Listing screen.  A Clickable Background is considered a Component, so we want to ensure that we are on the Component tab when creating a new Clickable Background.

In the New Component Type dropdown, select Clickable Background.  This will open a new form to create a Clickable Background.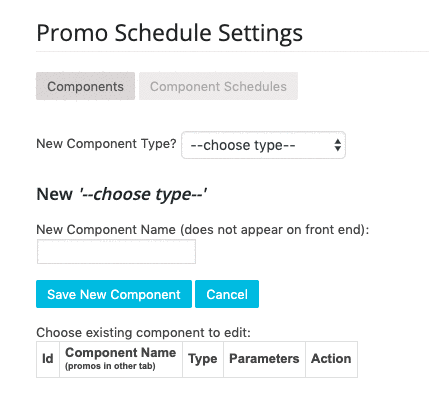 Clickable Background Settings
There are various fields for a Clickable background, but also very straightforward.
Advertiser Landing Page URL

:   This is where website visitors will be redirected to when they click on the background image.
background-image

: The background image that will override your normal background image as the "Clickable Background".
background-repeat, background-position, background-attachment:

These are to position the background image.  Unless you notice issues with how the background is displaying, it is best to leave these at the default settings.
background-color (#HEX): This is the color the website background will be where ever the background image does not cover.  (hint: #ffffff is white and #000000 is black)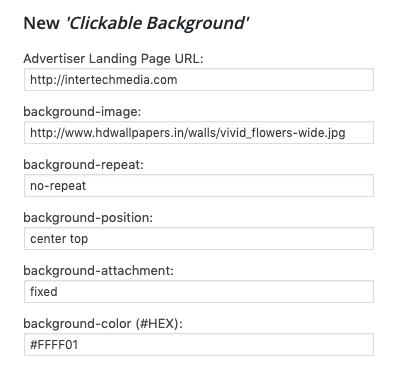 Responsive Background Images
Since your website can fit on various screen sizes and devices, you'll want the clickable background image to look correct no matter how your website visitors view your website.  It's best to create background images for various "breakpoints".  You can insert the URL for the background image for various screen sizes in the following fields.  All sizes are in pixels and refer to the width of the screen.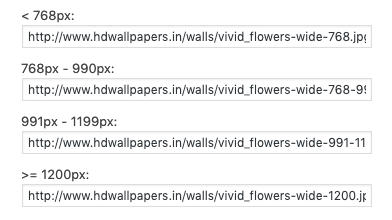 Naming and Saving
The last field is for giving your Clickable Background a Name.  Once you have filled out all of the fields, you can click the Save New Component button.


IMPORTANT:  Before your Clickable Background will be live on your website, you have to create a Promo Schedule for it.  That is covered in the Scheduling a Promo Component tutorial.


Clickable Background on Your Website
Anytime a website visitor clicks on the background image, it will redirect them to a URL that you set.