You have 5142 weeks 6 days remaining for the course
Overview

0/1

Creating and Targeting Banners

0/3

Banner Lightwindow

0/1

Promo Schedule

0/4
How Banners Work
Nothing is more important to your business than revenue.  When it comes to your website, that means advertising revenue.  We made sure when we developed the ad serving mechanism of One CMS that it was easy, fast and full of useful statistics to let you know how your ads are performing.
So before we get into creating ads, let's take a very short look at how ad serving works in One CMS.
Banner Bins
Banners are served in a very simple process in One CMS.  Banner Bins hold groups of banners that you want to display in the same place on your website.  Banner Bins are displayed in the Advertise Widget, which are placed in your theme to display in various strategic areas of your website.
So I might have a Banner Bin called Home Next to Slider 300X250.  When building your site, we placed that Banner Bin in an Advertise widget next to the slider on your homepage.
Any banner I add to the Home Next to Slider 300X250 Banner Bin will display in that area of the website.
Here's an easier way of looking at it: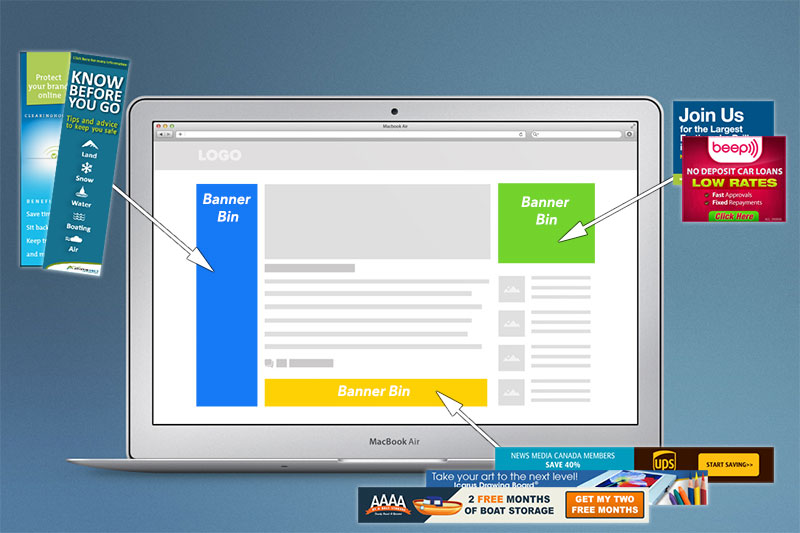 I've got numerous banner ads that were added to three different banner bins.  Those Banner Bins show up in different areas of my site.  Only the banners in a Banner Bin will display wherever that Banner Bin is placed (within the Advertise widget).
Run of Site vs Targeting Banners
Now that we understand why banners show up where they do on your website, let's talk about about how you can tell a banner to only show up on a certain page, category, show and more!
Targeting Banners
Even if the banner bin lives in is on every page on your website, you can tell the banner within that bin to only display on specific pages.  That's where targeting comes in.
When creating a banner, I can tell that banner to show up on one or more of the following attributes:
Specific Pages
Events in specific categories
Specific Contests
Galleries with specific tags
Posts in specific categories
Specific podcasts
Various utility pages (like your 404 page)
Just check the targets you want to target when creating a banner and that banner will only show up on the selected areas of your website (note the Banner Bin you added the banner to must live in those areas as well).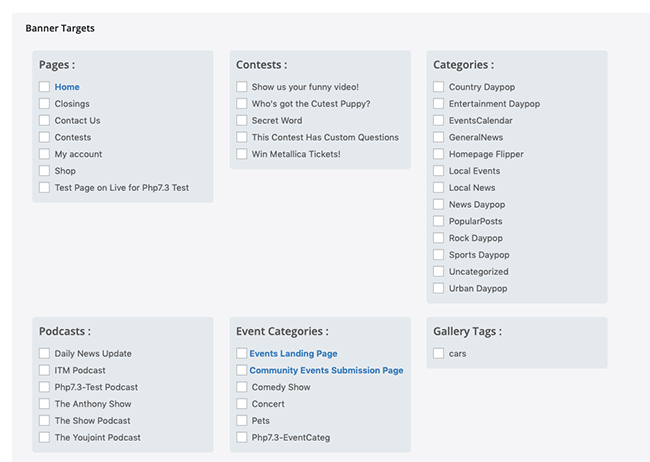 Run of Site Banners
What if you don't want to mess around with targeting a banner or you have a banner that you want to run everywhere the Banner Bin exists on your site?  You simply make it a Run of Site banner.  This tells the system that any page the Banner Bin the banner lives in should display the ad.
It is important to know that if there are also targeted banners in the same banner bin, they will get a higher weight and may display more often than Run of Site banners.

Ready to start getting your ads going?  Let's learn about creating Banner Bins.