You have 5142 weeks 6 days remaining for the course
Overview

0/1

Creating and Targeting Banners

0/3

Banner Lightwindow

0/1

Promo Schedule

0/4
Scheduling a Promo Component
When creating a Clickable Background or JQ Corner Peel (known as Promo Components), they will not display on your website until you create a Promo Schedule for them.  This is done in a separate step after creating the Promo Component.
To schedule a Promo Component, go to Banners > Promo Schedule.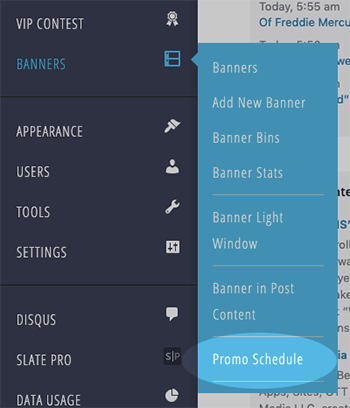 When scheduling, you'll want to make sure you have already created the Component you want to schedule and that you are in the Component Schedules tab.
It is important to note that you can only have one Promo Scheduled Component running at a time.
Creating a Promo Schedule
Click the Create New Component Schedule button.  This will open the Create Schedule form.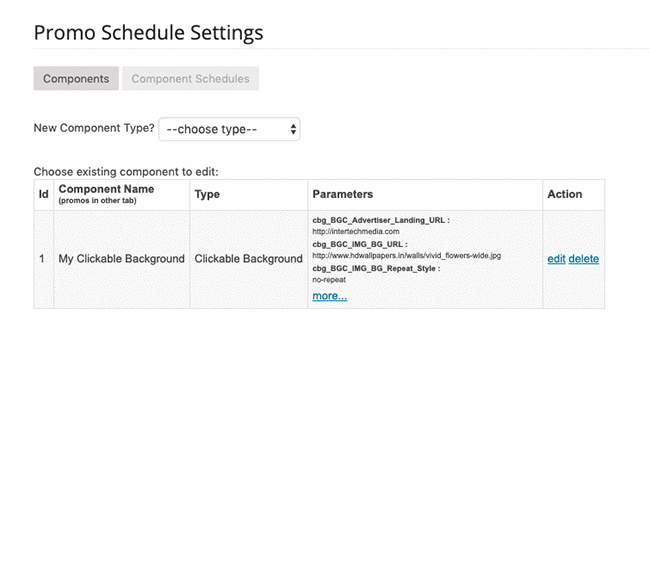 Scheduling
First, give your schedule a Name.  Then choose what date and time you want the Promo to display on your website (Start date/time) and what date and time you want to it to be removed (End date/time).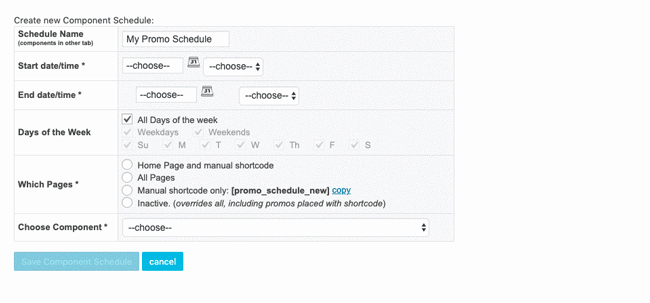 During this time period, you can further target the times it displays by selecting specific Days of the Week for it to display.  By default, it will display every day.

Targeting Pages
You can target specific pages for the component to be displayed on.  There's four different ways of targeting.
Homepage and manual shortcode:  The Promo Component will display automatically on your homepage and anywhere you add the special promo shortcode.
All Pages: It will automatically display on All pages of your website.  You do not need to add any shortcodes.
Manual shortcode only:  The Promo Component will only display on pages you place the special shortcode.
Inactive: This overrides all other settings.  Even if you have shortcode placed on your website, the Promo Component will not display.

Associating Component and Saving
The final step is choosing what Component is to be associated with this schedule.  We'll select the Clickable background we previously created.

Click the Save Component Schedule button.

Once the Start date/time is reached, the Promo Component you associated with the schedule will be live on your website.