You have 5142 weeks 6 days remaining for the course
Setting Up

0/1

Managing

0/2

Alert Graphic

0/1
Creating Schools / Businesses
Getting important information out to your audience about school closings is super important.  That's why we offer Closings as part of our One CMS portfolio of products.
Before you can mark schools or businesses as closed or delayed, you need to add the school into your Closings database.  You only need to add the school once and you can mark it as closed anytime going forward.
Creating A School / Business for Closings
Click the Add New link in the School Closings menu.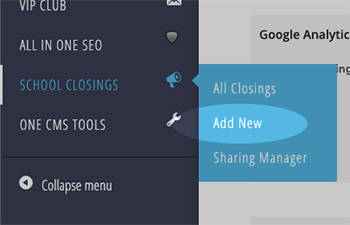 This will take you to the Add New screen for your closings database.

To create a new School, you only need to fill out one field, that being the School Name.  All other fields are defaulted specifically for schools.

If you are creating an entity other than a school, you'll also want to select the Type from the dropdown.  We have some default types you can select from, but you can also create new types as we'll cover further down the tutorial.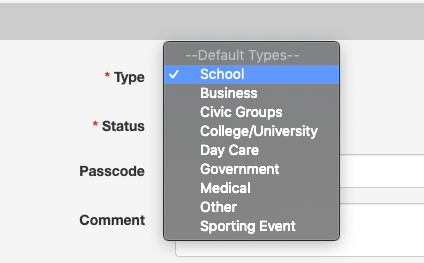 There's other fields you can fill out if you want to set the school to closed as you create it (such as Date, Status and Comment).  But for the sake of this tutorial, we are just going to create the school.
You can also create a login for the school to be able to set their own status for when they are closed. (Username / Passcode).  We cover that in depth in Allowing Schools to Manage Their Closings
Once you have entered the required information for the school / business, click the Submit button to create the entity.

Uploading Schools / Business in Bulk
If you have a list of schools and businesses you want to upload in bulk, all you need to do is save the list as a csv file and upload in the Upload Closing section.
The correct format is Name, Type:
Name,Type
ABC School, School
XYZ Office LLC, Business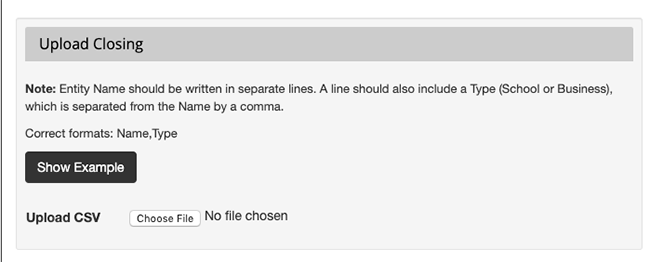 Creating Custom Closing Types
You can create custom closing types that extend the basic set of default types that come with One CMS Closing (school, business, etc…)