You have 5 minutes remaining for the course
Content Discovery Dashboard

0/1
Content Discovery Dashboard
The Content Discovery Dashboard is an incredible way to find and source content to use on your website as well as share with your audience on your Facebook and Twitter accounts. You can view local and global stories by adding news or story feeds to your dashboard and find awesome stories to write about or share with your audience.
The Content Discovery Dashboard
You can access the Content Discovery Dashboard by clicking the Discover Content link in the OneCMS administration menu.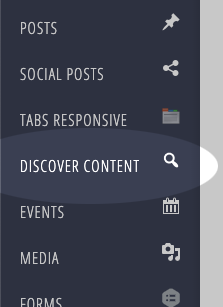 The first time you access the Content Discovery dashboard it will be empty.  (But not for long!)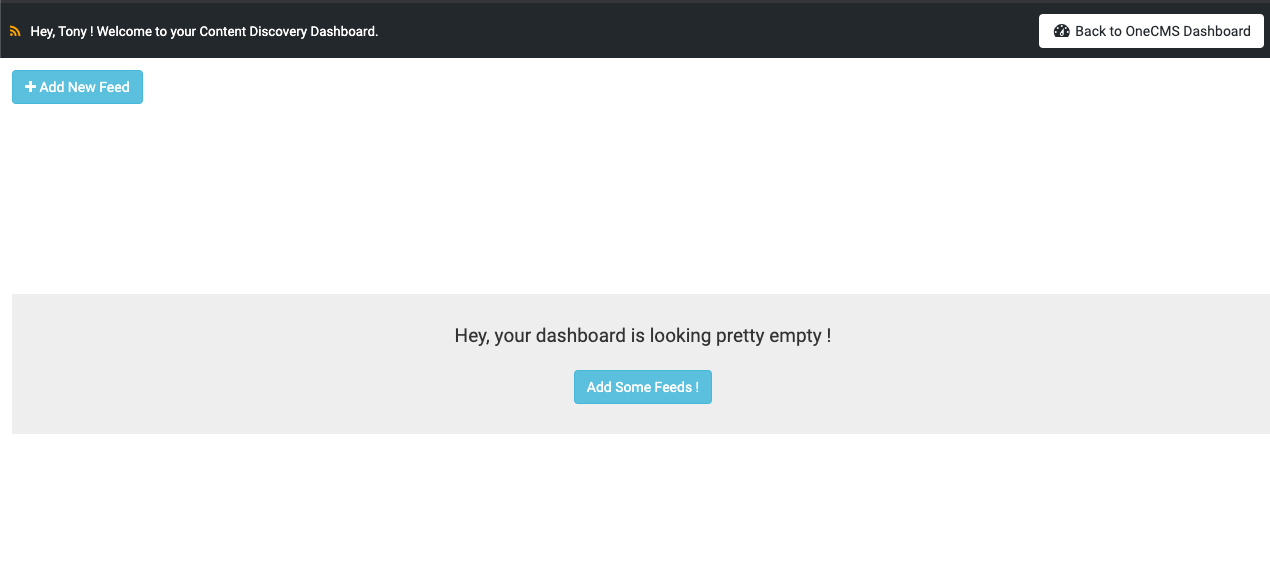 You can return to the main OneCMS Dashboard at any time by clicking the Return to OneCMS Dashboard button in the upper right corner of the screen.

Let's start adding Feeds to your Dashboard!
Adding RSS Feeds to the Content Discovery Dashboard
Adding Feeds to your Content Discovery dashboard is one of the most vital parts of setting up your OneCMS experience. By adding news and content feeds to your dashboard, you provide inspiration for your content as well as blurbs to editorialize around. Not only that, but you can stay up to the minute on local and global happenings at a glance…which keeps your content relevant!
Adding a Feed to the Content Discovery dashboard is easy! Just click the Add New Feed button located in the header of the dashboard.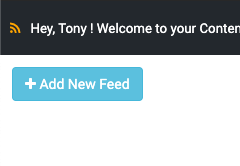 The Find Feed interface will open allowing you to search for various feeds to add to your Content dashboard.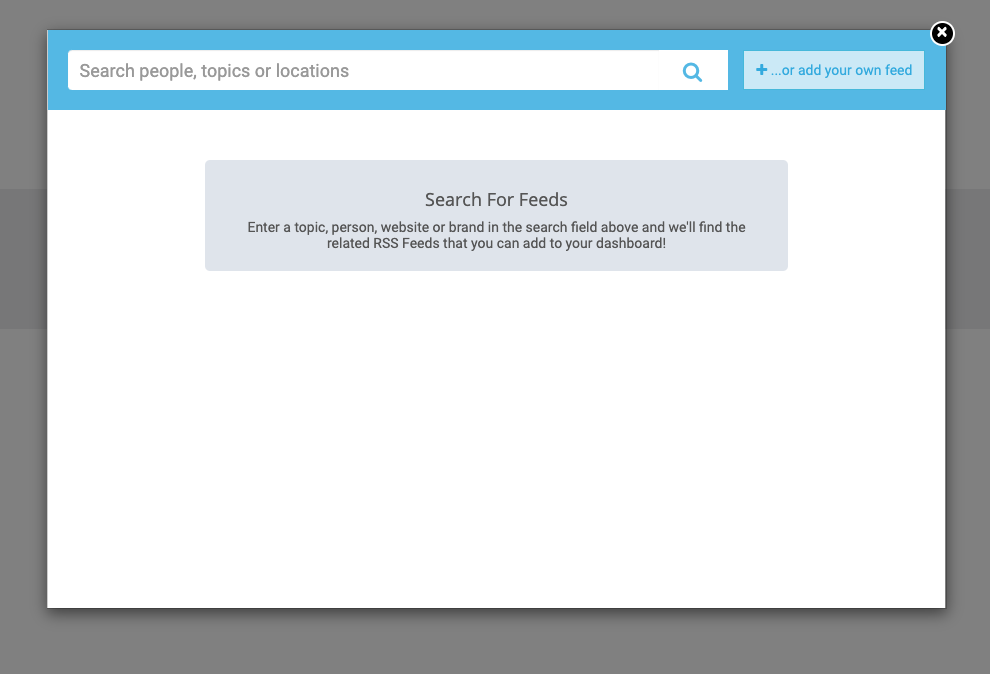 Just type in what you are looking for in the Search input field and press enter (or click the search button). This allows you to enter a search term that OneCMS will use to find feeds from different providers that match your request.
In this case, I'll enter Classic Rock as my search term (though you can enter pretty much any term, topic, genre, location, etc…).  After clicking enter, I'll see a list of RSS feeds that center around Politics. in the left side panel.
Tip: The feeds search is GREAT for finding local news!  Type in your city name or region and find stories from all the local news outlets!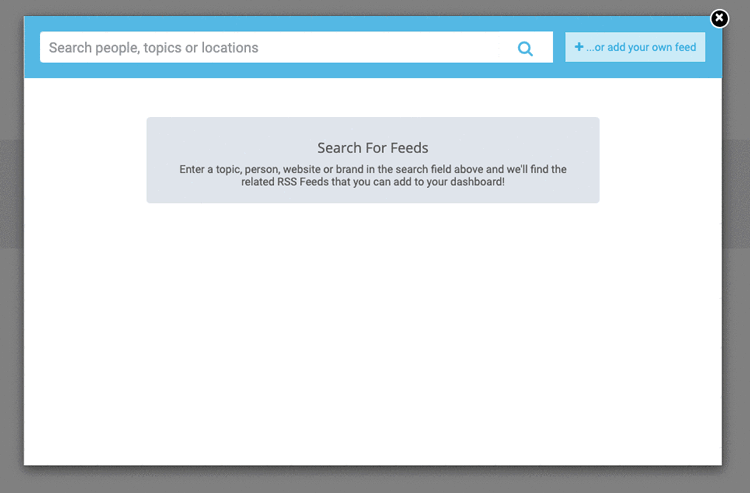 Just select the feed that you want to add in the results pane and detailed information about that feed will display in the information pane on the right.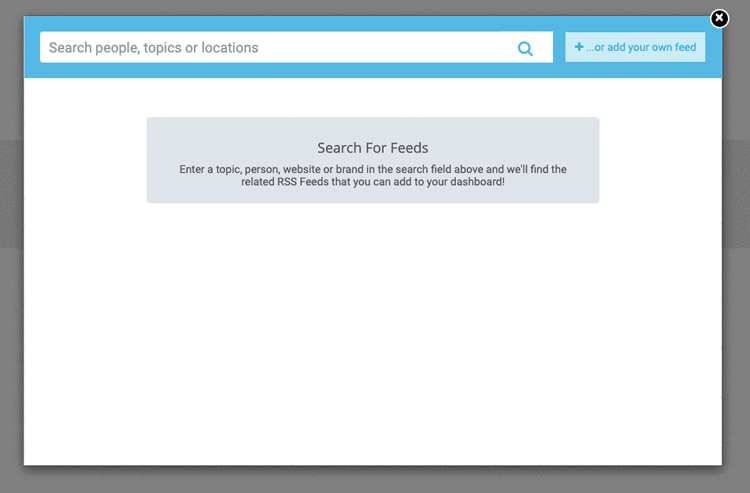 You'll see the two most recent stories from the feed to get an idea of the types of content this feed provides.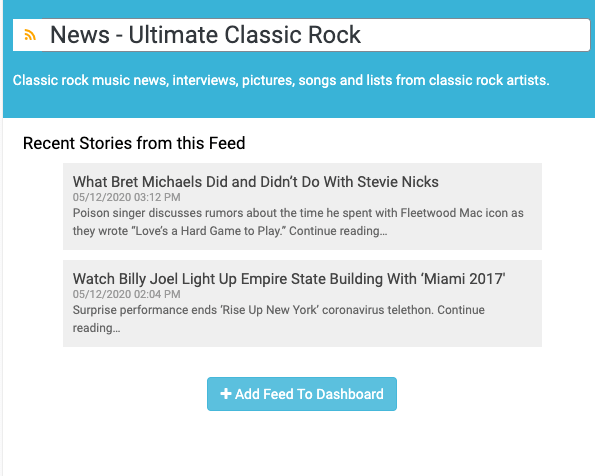 You can then add the feed to your dashboard by clicking the ADD FEED TO DASHBOARD button.  It's that easy!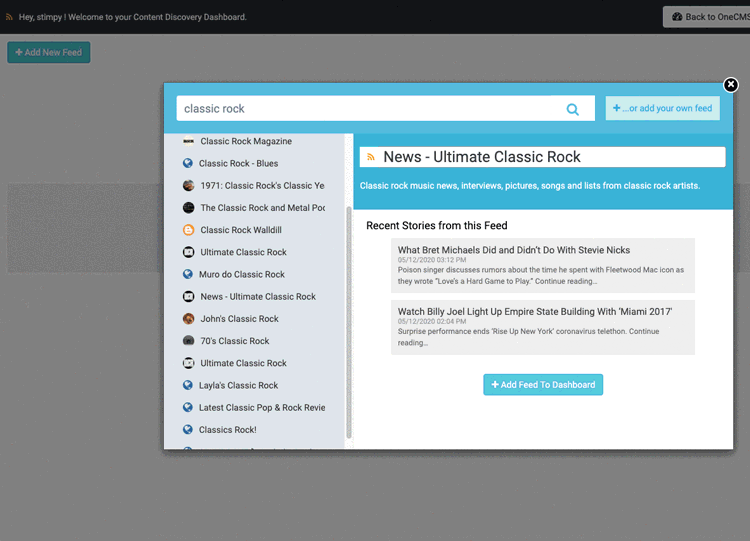 You can add up to 10 feeds to your dashboard. We'll keep count for you!  Anytime you add or remove a feed from your dashboard, your count of available feeds will update.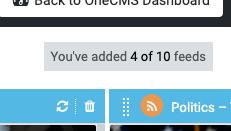 Note: your dashboard is yours!  The limit is not shared with other users and each website you have access to will have its own dashboard for you to use.  After all, you don't want your Politics news muddying up your country station's website dashboard do you?
Manually Adding an RSS Feed to the Content Discovery Dashboard
If you already have an RSS Feed that you want to manually enter into OneCMS, you can do that by clicking the Add Your Own button next to the search bar in Find Feeds modal.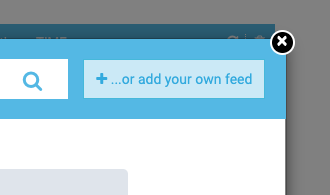 Then, just enter the name of the RSS feed and the URL, then click the ADD FEED TO DASHBOARD button to add it to your dashboard.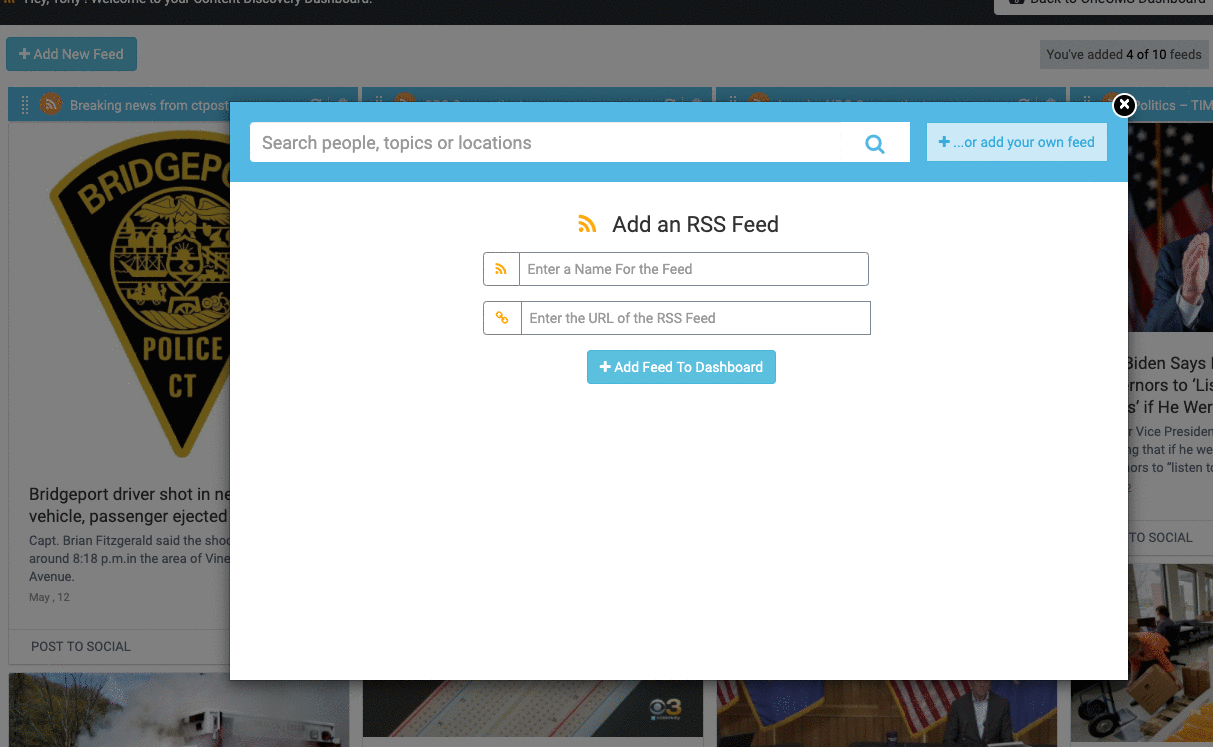 Interacting with Feeds
By clicking on the story image or headline, you'll be taken to the full story on the source website to read in full.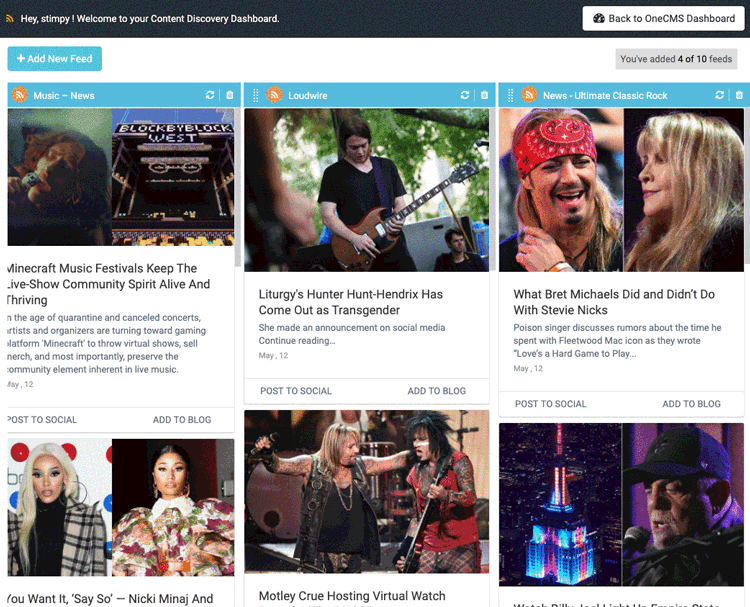 Posting Stories to Social Accounts or Embedding into a Blog Post
The OneCMS Content Discovery Dashboard allows you to share content you find with your audience by posting to your linked Facebook & Twitter accounts (haven't linked your social accounts yet?) or embedding the story from a feed into a blog post.
At the bottom of every story in a feed column, there are two links, POST TO SOCIAL and ADD TO BLOG.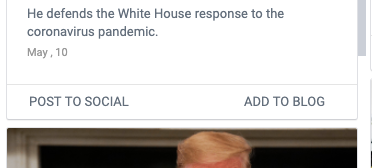 Sharing to Social Networks
Clicking POST TO SOCIAL will automatically redirect you to the Social Posting screen with the selected story already linked to your Social Post.  From here you can select the social networks to share to and put in a status message.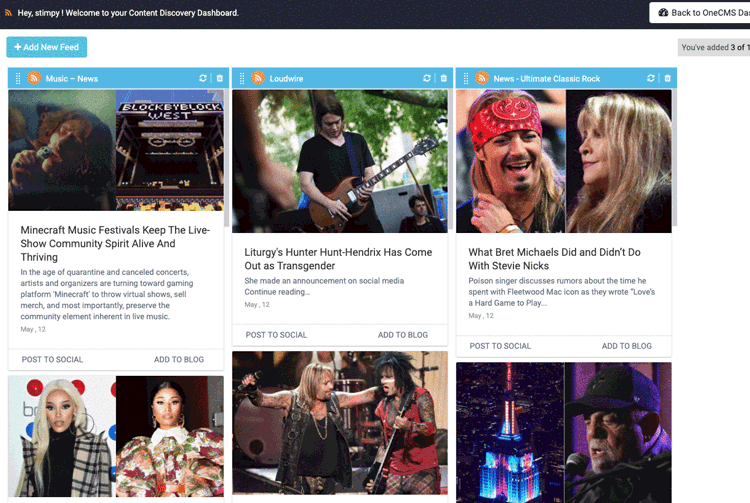 Embedding into a Blog Post
Clicking the ADD TO BLOG link on a story will redirect you to the Add New Blog Post screen with the selected story already embedded into the editor as an iFramely story embed.

Managing Feeds
Once you have a number of feeds on your dashboard, you can scroll horizontally to see ones that are further to the right.

You can also drag and drop feeds into any specific order you want.  Just grab the header bar of a feed and drag it into the spot you want it.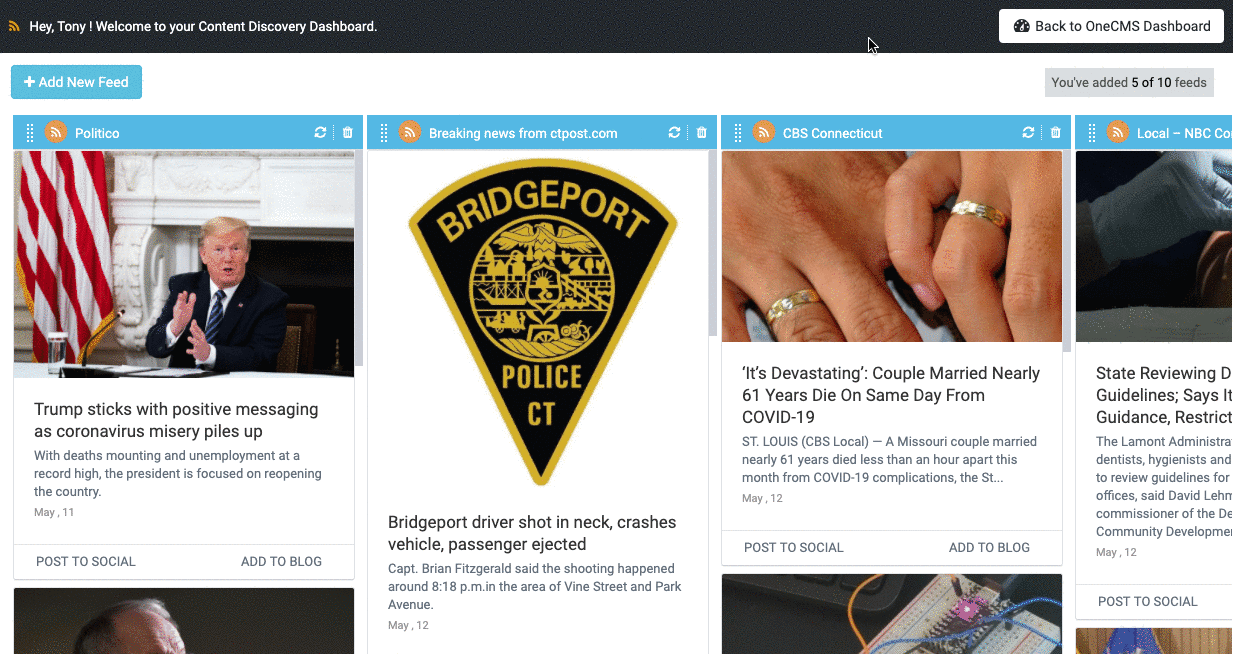 You can update feeds manually one at a time by clicking the refresh icon at the top of a feed column.  This will scan for new stories from the selected feed (you can also refresh the dashboard to check for updates from all feeds)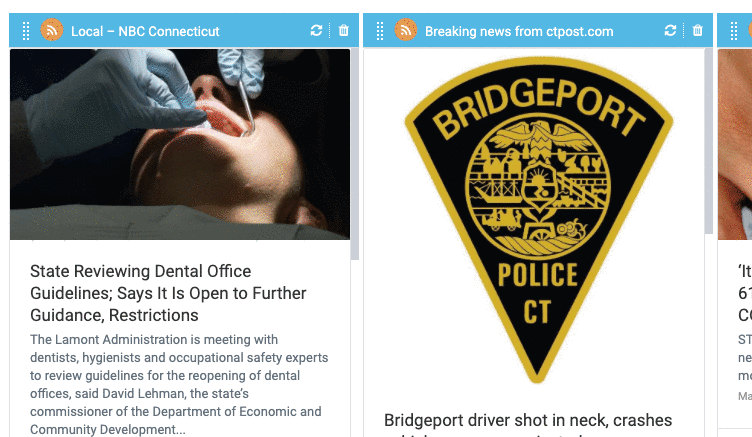 You can remove a feed column by clicking the delete button at the top of a selected feed column.