You have 5142 weeks 6 days remaining for the course
Creating Contests

0/4

Adding Custom Questions

0/1

Picking Winners

0/1
Creating a Contest
You already know how much people love to play games— It's that same sense of competition and winning something in exchange for one's efforts that ultimately drives people to enter costs, too.
Some benefits of running contests:
A contest offers you the chance to show off the fun, human, and very generous side of your business.
This is a new opportunity to promote your brand—especially if the contest teaches people more about it or if the "prize" gives them easier/cheaper access to it.
You can increase the size of your email subscriber list in your VIP Club.
You can also increase the number of followers you have on social media if the contest is one that employs the "share this on social" method in exchange for the number of entries they make.
There's the potential to collect more user-generated content if you run a contest specifically looking to reward customer submissions.
Creating a Contest
Navigate to VIP Contests > All Contests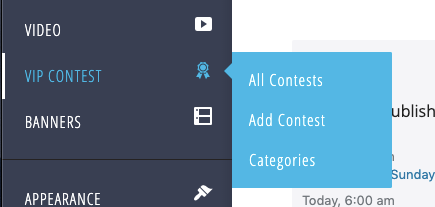 This will bring you to the Contest Listing screen where you can add and manage all of your contests.

Let's create a new contest!  Click the Add Contest button at the top of the screen.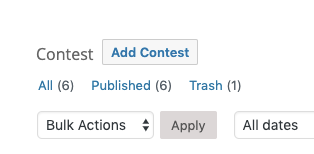 This will bring you to the Add Contest screen.  This is where we'll setup the new contest and modify all the settings to get the information we want from the people who sign up.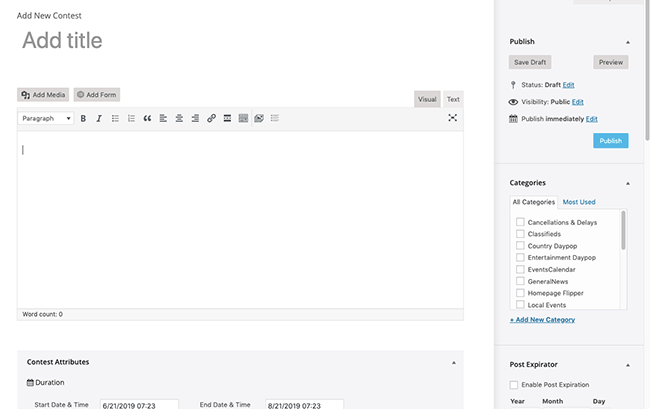 First add a Title and Description for your contest.  Be descriptive as these fields will show up on your website and explain the contest to your website visitors.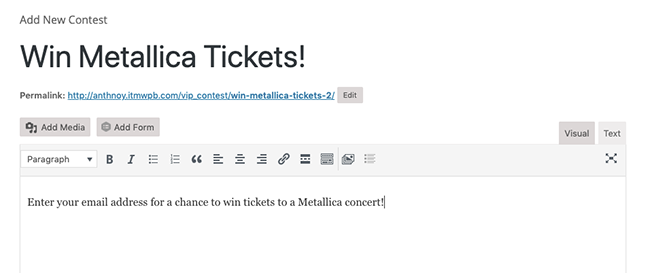 Contest Attributes
The next section is the Contest Attributes.  This is where you'll be setting up the meat and potatoes of the contest.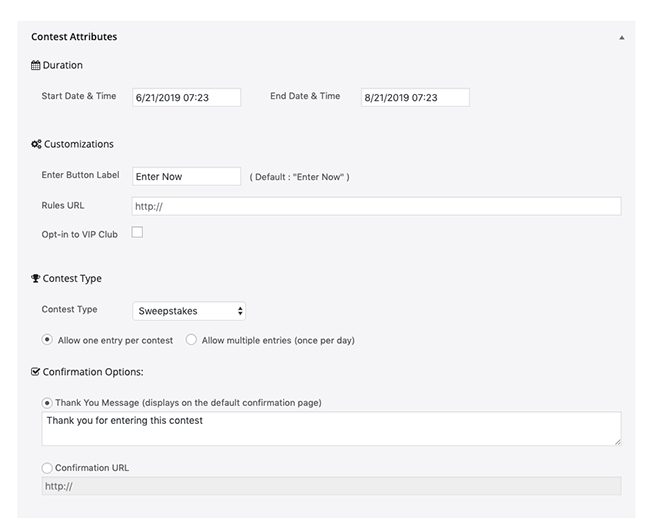 Start and End Times
Enter when you want your Contest to Start and when you want it to End.  This will simply allow and stop new entries from being accepted.  The Contest page will still be visible on your website.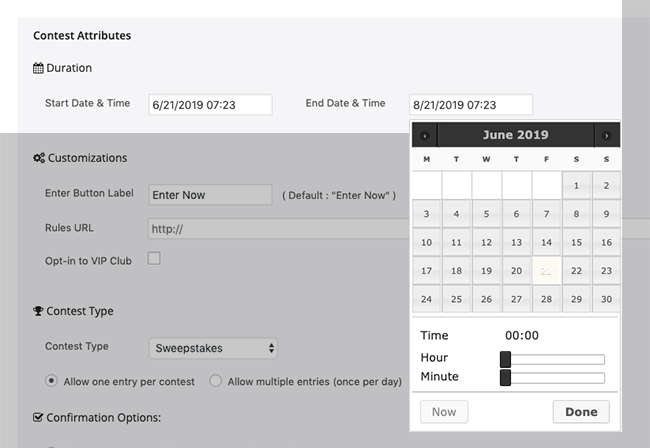 Entry Button Label
We automatically create an Entry button (as you'll see in a bit) for your website visitors to enter your contest.  But you get to choose what the button says.  Enter the text here.

Rules URL
Enter the link to your contest rules here. As online sweepstakes continue to grow in popularity , it's important to make sure your promotion is compliant with all local, state, and federal laws.

VIP Club Opt-In
Checking this box will add a checkbox to your contest entry to allow people to enter the contest AND sign up for your VIP Club in one step.  No brainer right?

Contest Types
One CMS Contests offer numerous different types of contests
Sweepstakes – This allows for the user to simply fill in a field or form to enter the contest. We'll be covering Sweepstakes in the tutorial.
Image Gallery UGC – In addition to filling out the information you want them to, the entrants can also upload an image. (Cutest Dog Contest?  Upload a pic of your puppy!).  The image is added to a gallery where you can enable voting to let the public determine the best image.
Secret Word – You can create up to 7 "Secret Words" in your contest.  Users will only be able to enter the contest if they guess one of the secret words. More info on Secret Word Contests.
Sweepstakes
For this tutorial, we'll cover Sweepstakes contests.  So we'll choose Sweepstakes from the Contest Type dropdown.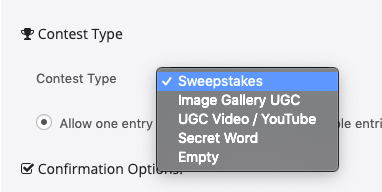 Number of Times a User can Enter
You can set how many times a single person can enter a contest.

Confirmation Options
Finally you can set the confirmation message a user gets when they enter a contest.  Either enter text you want them to see, or enter the URL to a special page you have setup where you want contest entrants to be sent to.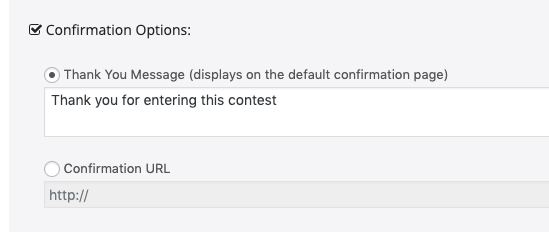 Custom Questions
Want to really add to your contest?  You can add Custom Questions to your contest to really heat up the competition, or just to gather more information about your entrants.  We cover Adding Custom Contest Questions in detail in another tutorial.
Other Options
VIP Form
Since we'll want people to be a part of our VIP Club, make sure to pick which VIP Club Signup Form you want them to fill out as part of entering the Contest.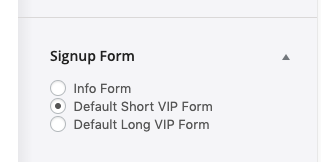 Post Expirator & Featured Image
Just like normal content, you can set a Contest to expire after a certain amount of time using the Post Expirator.  As mentioned above, even though the Contest may have ended, the Contest Page remains after entries are no longer accepted (using the Start / End date range in Contest Attributes).  Using Post Expirator can set the Contest to draft or other statuses afterward so the page is not long accessible.
Add a Feature Image to gain more interest in your contest!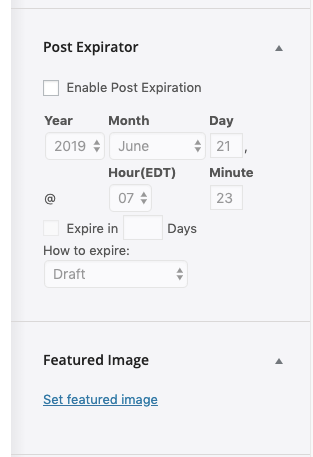 Categories
Like other post types, you can Categorize your contests so they can be grouped together or be featured in different parts of your website.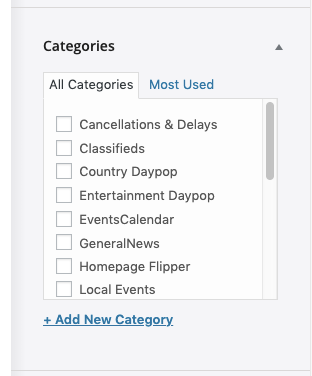 Publishing your Contest
Let's publish this contest and see it on your website!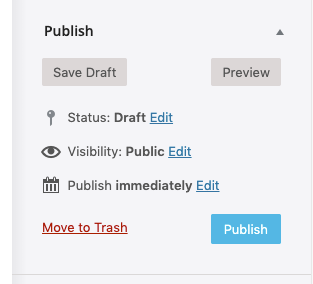 Sweepstakes Contest on Your Website
When someone visits the contest page, they'll see something similar to the image below.  Your Contest Title, Description, Rules and Button Label all display.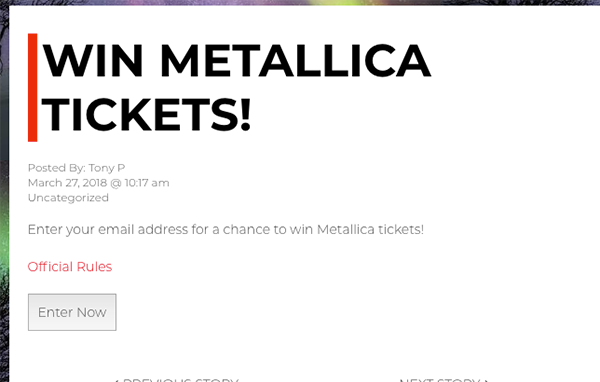 If the person entering the contest has never entered before or is not already a member of your VIP Club (and you did not add any custom questions), they will have to enter their email as well as the VIP Form you designated when setting up your Contest.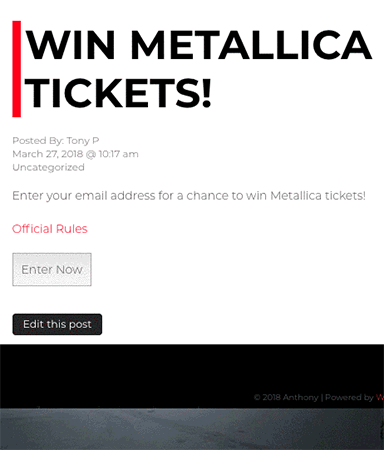 If the user entering is a member of your VIP Club or already entered a contest previously (and you did not add any custom questions), they'll just need to enter their email address.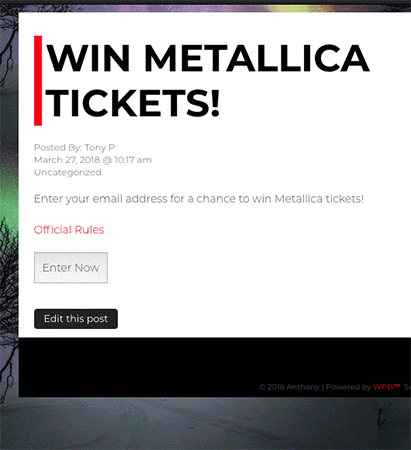 The user will also receive a confirmation email with the contest details (and options to earn more entries by sharing the contest via social media (not shown).