You have 5142 weeks 6 days remaining for the course
Creating Contests

0/4

Adding Custom Questions

0/1

Picking Winners

0/1
Secret Word Contests
A Secret Word contest is essentially a simple sweepstakes with the addition of a little something extra. In order to successfully enter the contest, members of your audience need to have a specific codeword from another outlet, such as your on-air programming, print publication, website, or even an advertiser's physical location.
These types of contests are an incredibly effective way to drive audience and online traffic for all media companies, but TV and radio stations in particular thrive with codeword contests.
Create a Contest as usual.  When you get to the Contest Type, select Secret Word.

You can enter a special Label that displays with the secret word input field on your website.  By default it is "Secret Word".

You'll get up to 20 fields to enter secret words that your entrants have to enter.  By entering any one of the secret words will allow the entrant to enter the contest.
You can spice up the contest by allowing multiple entries.  But your users will only be allowed to use the same Secret Word once!  The only way for them to enter multiple times is to know more of the secret words!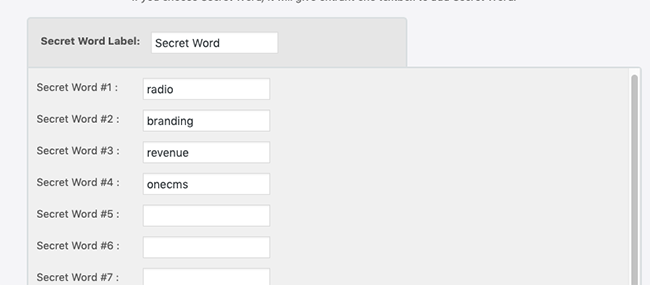 You can set messages to show when the user enters the wrong secret word, or if they try and enter with a secret word they have already used before.

Secret Word on your Website
Entering a Secret Word Contest works the same as other contests, except there will be a field to enter the Secret Word.
A wrong entry would look like this: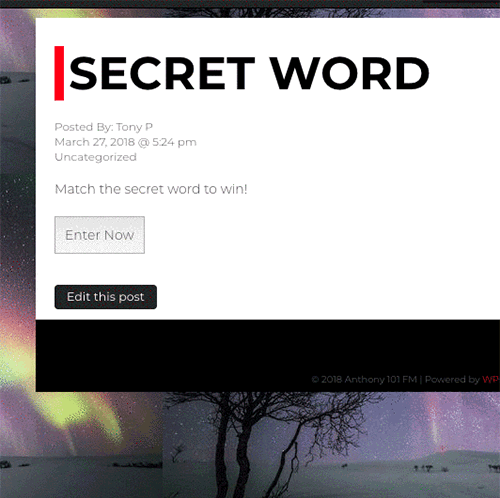 A successful entry would look like this: