You have 5142 weeks 6 days remaining for the course
Creating Contests

0/4

Adding Custom Questions

0/1

Picking Winners

0/1
Youtube Video Contests
Well-designed contests immediately answer the basic question: "What's in it for me?" Through awards of cash, merchandise, free service and even recognition, you can encourage your audience to help you generate original content–content that will help you build your brand and deliver value to your visitors.
For example: if your contest requires people to submit content, a large number of entrants will likely promote the content on their own private social media channels, especially if the contest involves the need for votes. When entrants share their content on Facebook, Twitter and Pinterest, it's a tacit personal endorsement of your brand.  Boom!
Let's create a Youtube Video Submission Contest:
First, Create your Contest as Usual.  When you arrive at the Contest Type dropdown, select Youtube Video Submission.
That's it!  Now on the frontend of your website, when a user enters a contest, they can enter the Youtube video ID of their video to enter the contest (make sure to detail exactly what you are looking for in your Contest description)

Youtube Video Submissions on your Website
The Contest will be entered as normal, but your audience will be prompted to enter the Youtube VideoID during the submission.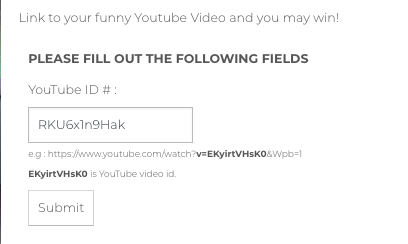 Note: the videoid is the string of characters after v= in a Youtube url.