You have 5142 weeks 6 days remaining for the course
Creating Events
Your One CMS websites includes a full-featured Events calendar that you can add various different types of events to for your website visitors to see.
Creating Events
To create new Events, Go to Events > Add New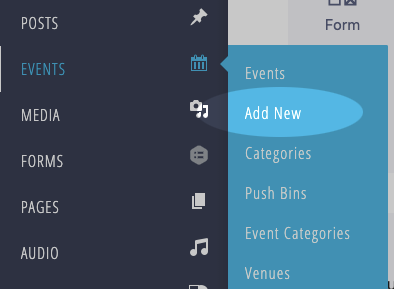 This will bring you to the Add Events page. It is set up like most other One CMS pages. First add an Event Title and Description (in the editor).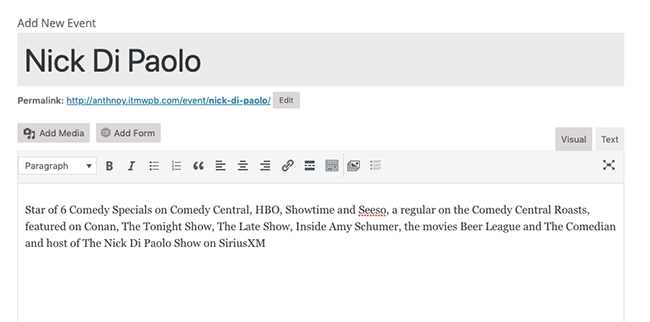 Event Time & Date
Next enter the Date and Time of the Event (Start and End Times). If it is an all day event, check the All Day Event checkbox.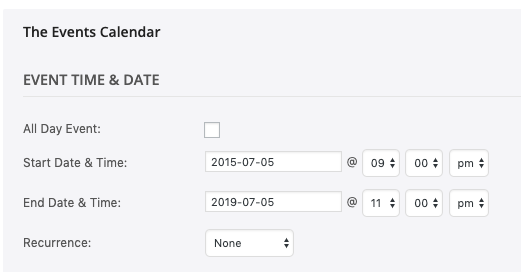 Venue Location
Next, enter the Event Location information. If the location is somewhere you had previously entered, you can select it from the Use Saved Venues dropdown as shown below.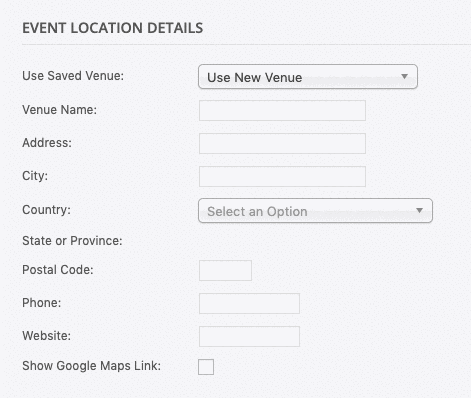 If you are adding a new Venue, just fill out all of the fields for address, phone and website. If you have entered an address for the venue, you can also check the boxes to show a map of the Venue on the Event page.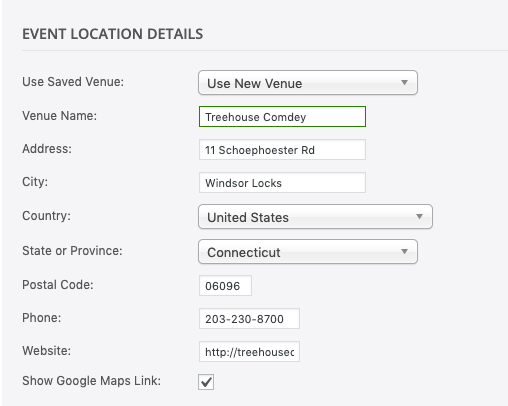 Event Organizer Details
If the Event has an Organizer or Sponsor, you can add their information as well. Just with the Venue, if you have a saved Organizer, you can select it from the dropdown, otherwise, enter Organizer contact info in the fields.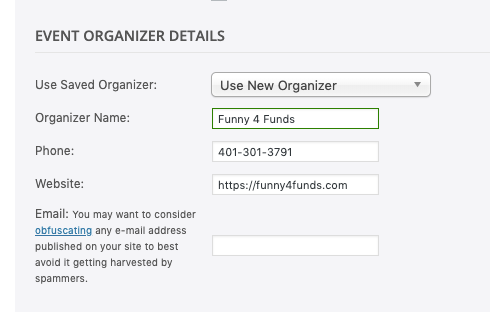 Event Website and Cost
If the event has a website, enter its full URL.  If the event has an entrance fee, enter the cost (format:  10.00) in the Cost field.  Enter a 0 for events that are free or leave blank to hide the field.  You can choose to show the currency symbol before or after the amount as well.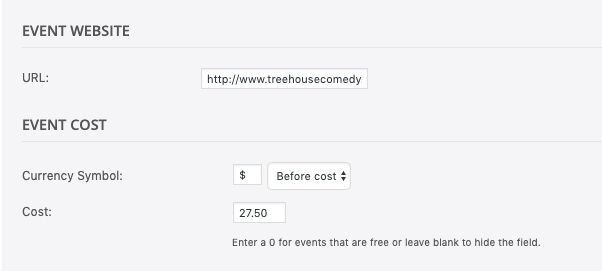 Event Categories
You can group your events into Categories to make it easier for your website visitors to find specific types of events. Just like posting categories, you can add create new Event Categories and add your event to them.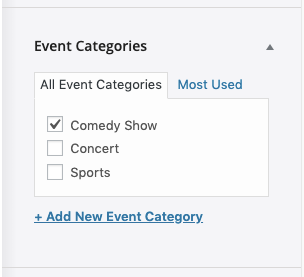 Event Options
You can choose to create an Event that does not show up in the main listing of events on your website.  That way it will only be available via a direct link that you share.  You can also sticky an event so it always shows at the top of the Event listing (until it expires).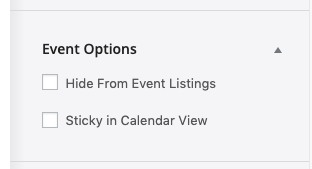 Featured Image
Just like with most One CMS content, you can add a Featured Image to your Event that will display with the event on your website.

Publishing Your Event
Once you are ready to publish your event, click the Publish button.  Just like other forms of content, you can save the Event as a draft or schedule it to go live later.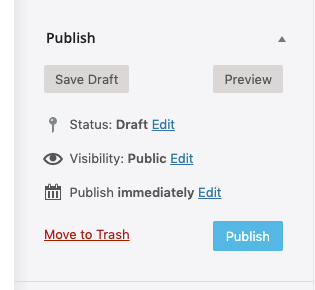 Once you publish the event,  you can view it immediately on your website by clicking the View Event link.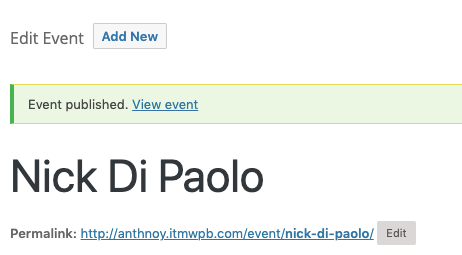 Events on Your Website
Your event will display on its own page with all of the fields you filled out.  If you added a Venue address and selected to have a map shown, a Google Map will display as well.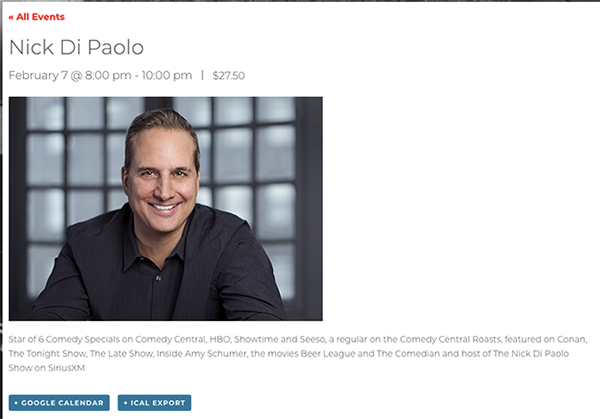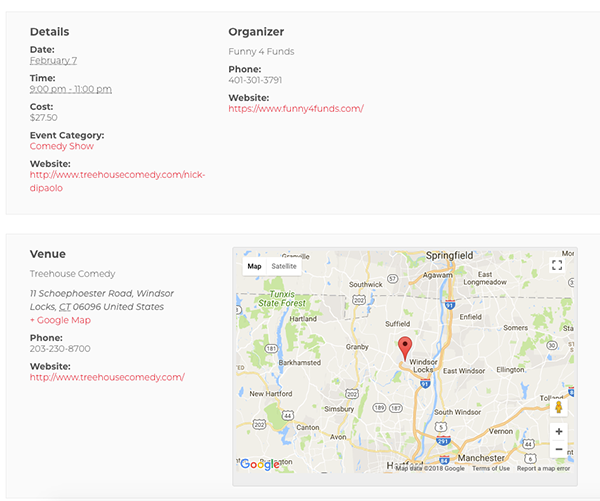 Your Upcoming Events page will display a listing of all upcoming events with basic information about the events.  (generally at yourdomain.com/events)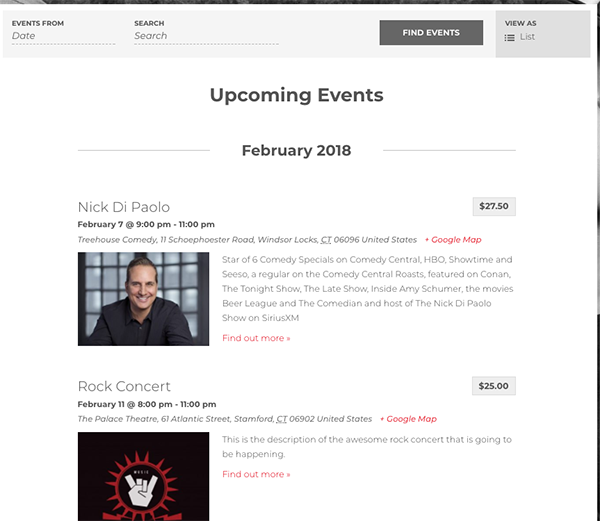 You website visitors can change the view of the listing by clicking the View As dropdown and changing it.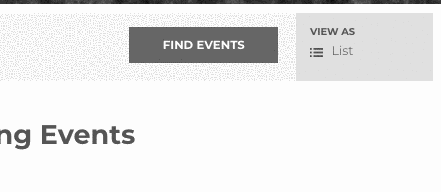 Here is a Month View.  Note when you hover over an event it will show a brief description in a flyover box.