You have 20 minutes remaining for the course
Creating and Managing Galleries

0/3

User Generated Content

0/2
Setting up UGC for Image Galleries
So you already know how to set up a Gallery, right (No? Start here first!)
User Generated Content (or UGC) is defined as any type of content that has been created and put out there by unpaid contributors or, using a better term, your fans. In the case of One CMS, it can refer to pictures and videos that your audience submits to display in a gallery.  The great part of One CMS UGC is that you monitor what is submitted and only allow the images or video you approve to end up in a gallery.
Setting UP Your Gallery For UGC
 All you need to do to enable UGC for a Gallery is select the Public UGC Submissions checkbox for the selected gallery (note: this only enables UGC on the selected gallery, not ALL galleries).  Staff UGC Submissions are for clients that use the Advanced mobile app which allows your staff to send content to the gallery without any moderation.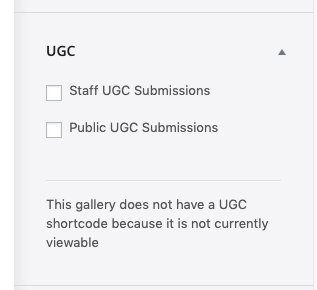 Now, you users need to be able to have a place to upload their media right?  That's where you get a couple options.  Once you enable Public UGC Submissions on a gallery, you'll get a second option to add a form right on the Gallery page.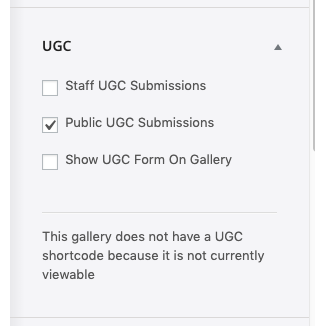 Enabling that setting will place a UGC Form directly underneath the gallery as shown below (we'll get more into using the form and approving images in Managing the UGC Inbox)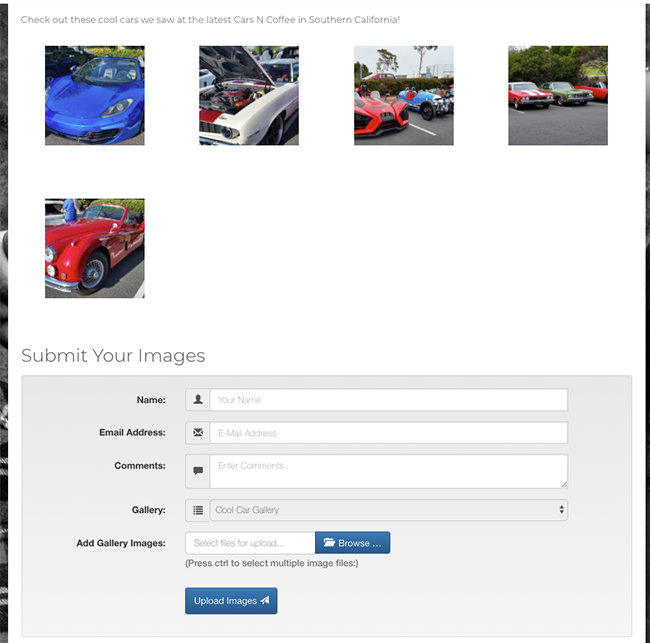 Using the UGC Form Shortcode
You can also place the UGC form anywhere on your website by using the UGC Form shortcode.  There's a couple different parameters you can use to nail down exactly what you want your audience to be able to do.
Upload Images to any UGC Enabled Gallery

Just put the base wpb-ugc-form shortcode and the UGC form will display with all UGC Enabled galleries in the Gallery dropdown.  (you can also declare the type as "image")


Upload Images to a Specific Gallery
By adding the galleryid, the Gallery dropdown in the form will default to the selected Gallery.


Upload Videos to a Playlist
If your website is using our JW Video package, you can also allow users to upload videos into a playlist.


Upload Images and / or Videos 

If you want to allow users to upload images or videos, declare the parameter "both".  This will add tabs to the form to allow your audience to upload to an image gallery or to a video playlist.

That would look like this on your website: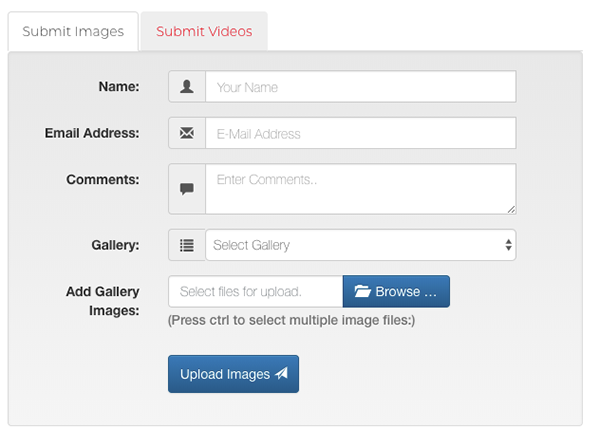 Ready to start accepting media from your audience?  Move on to Managing the UGC Inbox!