You have 11 minutes remaining for the course
Adding Links to Menus
In our last tutorial, we learned how to create a menu.  For most users, however…you don't need to create a new menu.  The menus that came with your website do the job just fine!  What you may need to do is add links to a menu. This menu will cover adding page, posts, categories, custom links and more to your menu.
Navigate to  Appearance » Menus in your  admin area.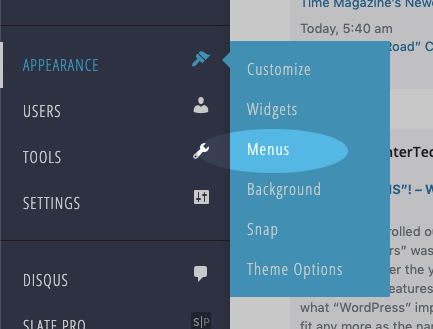 This will bring you to the Edit Menus screen which is divided into two columns. The column on your left has your pages, categories, and custom links tab. The column on the right is where you add and adjust menu items.  If you have an existing menu, it will load automatically.
Selecting the Menu to Work On
If you have multiple menus, you can choose which one to work on by choosing it from the Select Menu dropdown and clicking the Select button.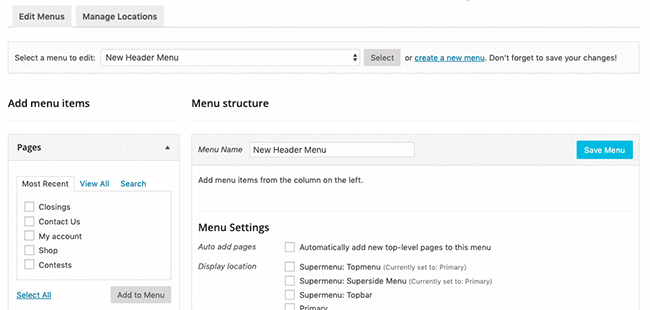 Content Types You Can Add to a Menu
There's quite a few different items you can add to your menu.  They are listed on the left side and may vary from site to site depending on what options your website has.
Here we can add Pages, Posts, Custom Links, Categories and Event Categories: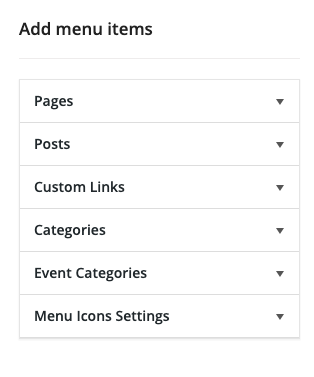 Adding Pages or Posts
In the Pages or Posts boxes, you'll can browse your Most Recently created, All or you can search for a specific Page to add to your menu.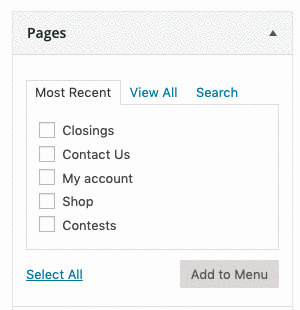 Just select the checkbox next to each Page/Post you want to add to the menu and the selected pages/posts will instantly be added to your menu on the right side.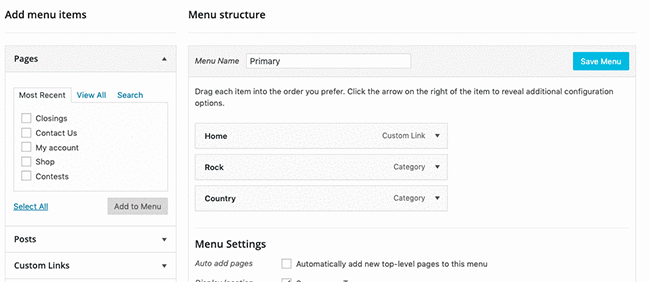 Adding Custom Links
While adding posts and pages is easy, what if you want to add a link to your social media profile or another location? This is when you can use the Custom Link option.
Simply click on the Custom Link tab in the left-hand column to expand it. You will notice that it only has two fields. The first one is for URL where you will need to add the actual link you want to add. The second field labeled Link Text where you will add the clickable text for the link.  Fill out the fields and click the Add to Menu button.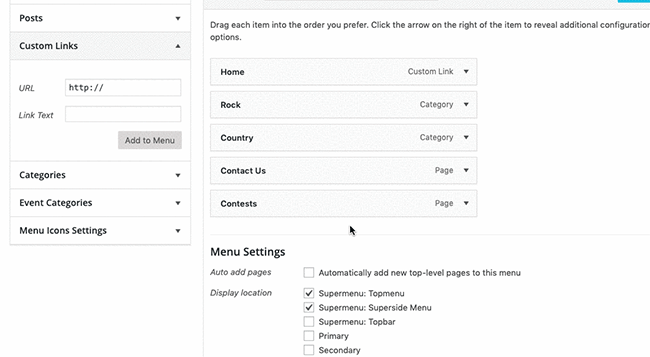 Adding Categories
Start by clicking on the Categories tab to expand it. You will see your blog categories listed there. Simply select the categories you want to add to the menu, and then click on Add to Menu button.  (Note that Event Categories functions exactly the same).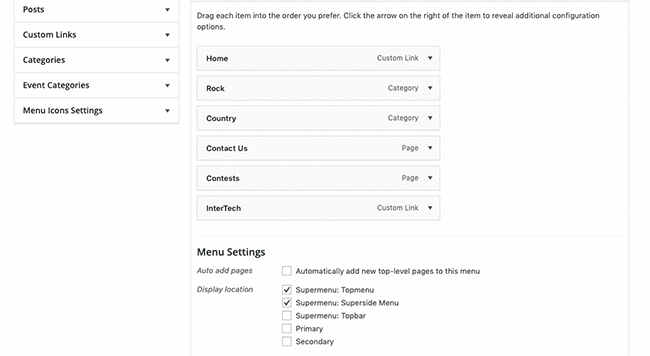 Editing Links
When you add pages or categories to your custom navigation menu, One CMS automatically uses the page title or category name as the link text. This does not mean that you cannot change it.
All menu items can be edited by simply clicking on the downward arrow next to a menu item.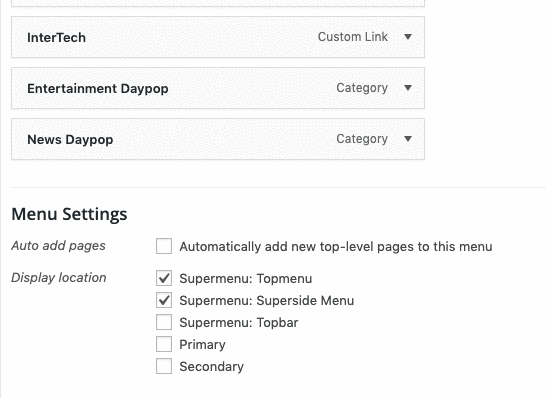 Creating Nested Drop-Down Menus
Nested menus, also known as drop-down menus, are navigational menus with parent and child menu items.  Creating nested menus allow you to add a properly structured navigation system to your site.
In your menu structure, drag the menu item just below the parent item. Next, slightly drag the menu item to the right. You will notice that it will automatically become a sub-menu item.  Here we are going make all of our post categories a submenu of Categories.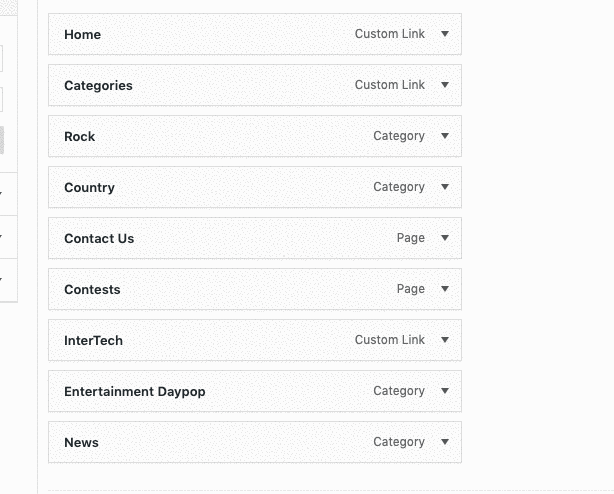 Hint: want to make a top-level menu item that doesn't link to anything?  Create a Custom Link Menu item with # as the URL.
Removing a Menu Item
You can remove a link in the same way you edit them. Just click on the downward arrow icon next to a menu item, and you will notice a red Remove link. When you click on it, the link will be removed from your navigation menu.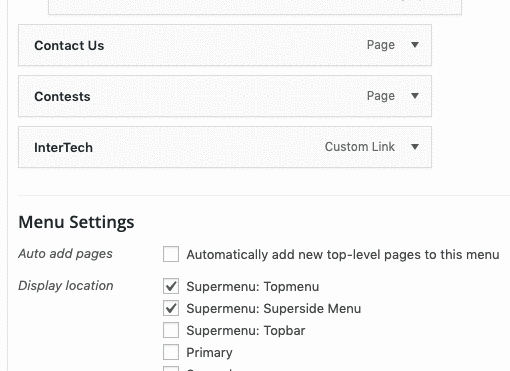 Saving Your Changes
Once you are done editing your menu, click the Save Menu button..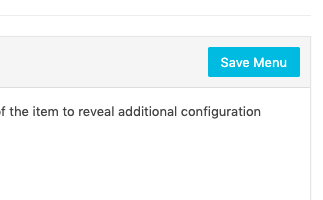 The changes will be pushed to your website (this may require a cache clear)