You have 20 minutes remaining for the course
Podcasts and Podcasting

0/3

Monetizing Podcasts with Pre-Roll

0/1

Audio and Pre-Roll Stats

0/1

Submitting Your Podcast To Podcast Services

0/4
Audio Episode and Pre-Roll Stats
Audio Episode and Pre-roll stats allow you to see how your podcasts are performing as well as seeing how many ears your advertiser's pre-roll received.
Audio Episode and Pre-roll stats have the same exact functionality, so in this tutorial, we walk through viewing Audio Episode statistics, knowing that Pre-Roll works the same.
Viewing Audio Episode or Pre-Roll Statistics
To View Audio Episode Stats click through to Podcasts > Podcast Stats
For Pre-Roll Stats, navigate to Podcasts > Pre-Roll Stats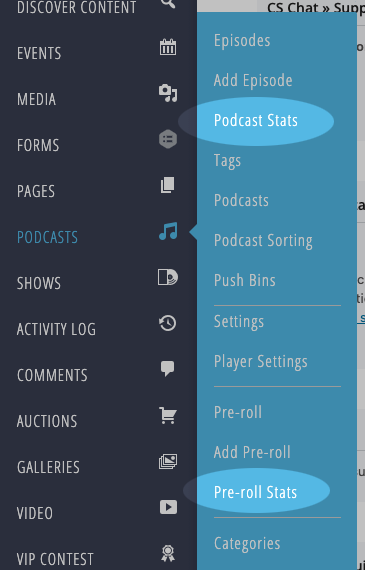 The stats listing page gives a wealth of information about each episode.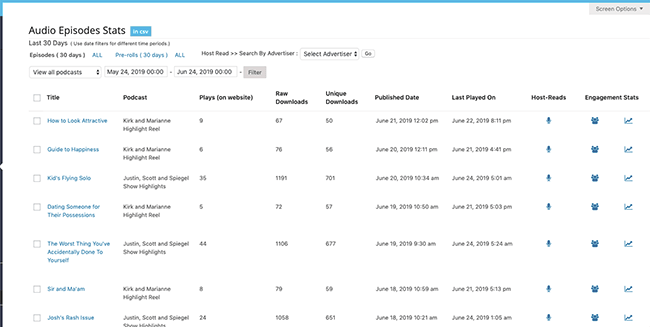 Looking at one episode, you can see which podcast the episode is associated with as well as how many plays and downloads the episode has received.
Plays:  How many times a website visitor has played the episode on a player on your website
Downloads:  How many times the episode has been downloaded by a subscriber on a third party service (like iTunes or Spotify) or manually downloaded the episode from a player on your site.  This number is divided up between Raw and Unique.

Raw Downloads are the total number of times the episode has been downloaded.  Even if was downloaded multiple times by the same person.
Unique Downloads indicate the filtered amount of downloads that do not count the same person downloading the episode or downloads by bots.

You can also see when the episode was published, when it was last played and view Engagement and play stats.

Demographic Stats
By clicking the
Demographic Icon 

, you can view the
demographics of visitors who are members of your VIP Club
who play individual episodes.
Note:  Since we can only equate demographics for users that are in our database, demographics are only counted for users that are subscribed to your VIP Club.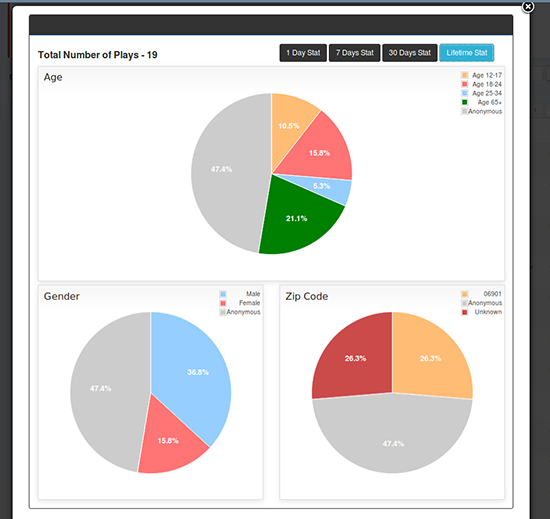 Episode Stats Over Time
By clicking the Chart Icon

link under Engagement, you can see a graph of plays of the episode over time.