You have 19 minutes remaining for the course
Podcasts and Podcasting

0/3

Monetizing Podcasts with Pre-Roll

0/1

Audio and Pre-Roll Stats

0/1

Submitting Your Podcast To Podcast Services

0/4
Creating a Podcast
Creating a Podcast
Click Podcasts > Podcasts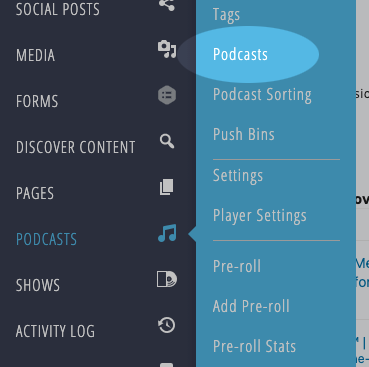 This will take you to the Podcast Listing page where you can also create a new Podcast.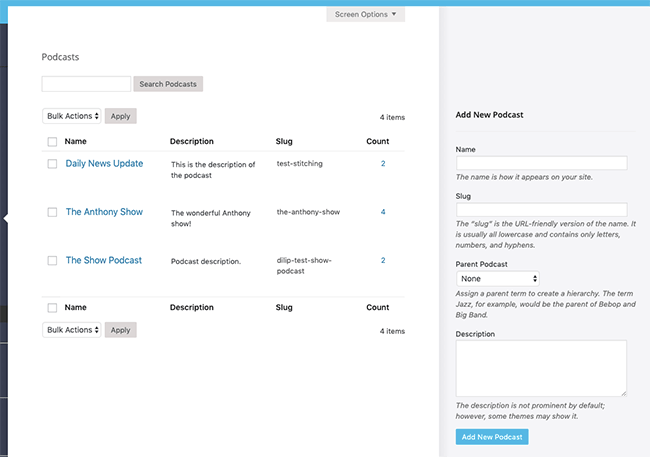 On the left side of the page, you can fill out the fields to create a new podcast.  The only required field is the Podcast name, the rest we can look at after we've created the podcast and we start adding more info to it.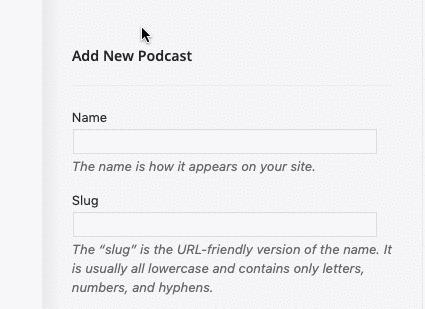 Now just click the Add New Podcast button and your brand new podcast will be added to the listing.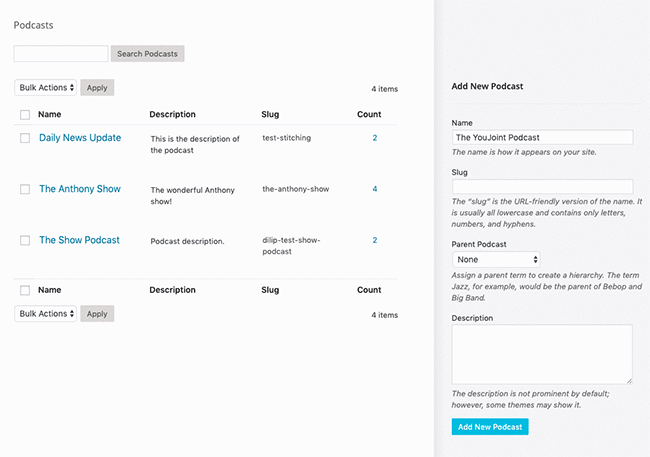 Editing Your Podcast
Now, just because you have a podcast with a name doesn't mean you should leave it that way.  There are lots of customizations you can make to a podcast to give it more functionality and add it to 3rd party syndication services like iTunes, Spotify, etc…
Click the Edit link underneath the podcast in the listing.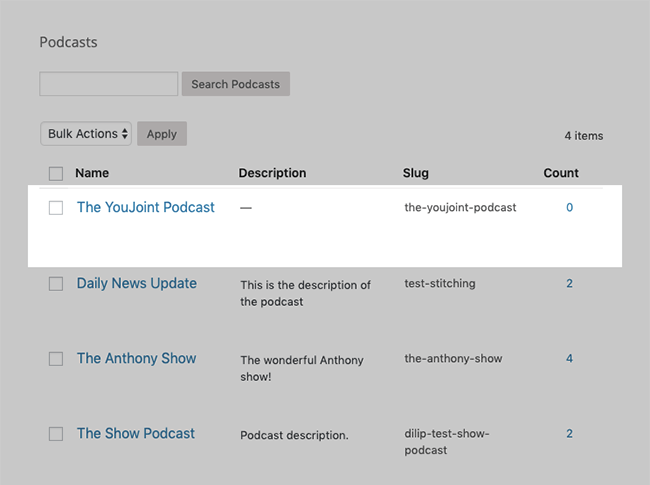 This takes you to the edit screen for the selected podcast.  The top of the edit screen has some familiar fields.  These are the same fields we saw when first creating the podcast.
The slug is automatically created for you.
You can choose a Parent Podcast to create a hierarchy in your podcasts, but it is not necessary, especially if you only have a few podcasts.
While the Description is not required, it is a good idea to add one.  It also may display on your website, depending on your website's theme.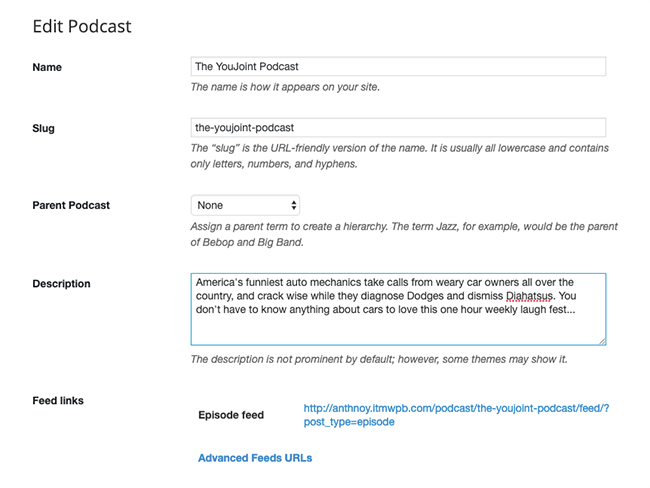 Syndication Feeds
The Episode Feed is super important if you plan on syndicating your podcast to iTunes or other 3rd party services.  This is the feed you will be submitting to those services so they can be notified (and then in turn notify people who subscribe to your podcast) when new episodes are published.

There are also some Advanced Feeds you can access, but those have very limited uses and are not used for most services.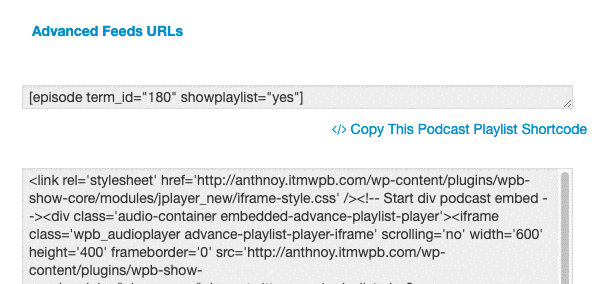 Attributes for Syndication
Most of the Attributes fields are for giving as much information as possible to 3rd party podcasting services.
Filling out these fields adds the information into the Episode Feed that you submit to these services.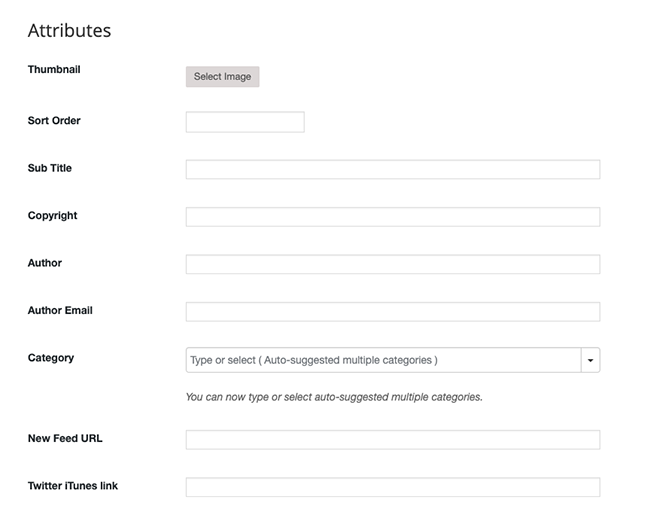 Fill out as many of the fields as possible.
Note:  Depending on your theme and player.  The Podcast Thumbnail Image will display in your audio player if the episode that is currently playing does not have its own image.  You should always add a podcast image!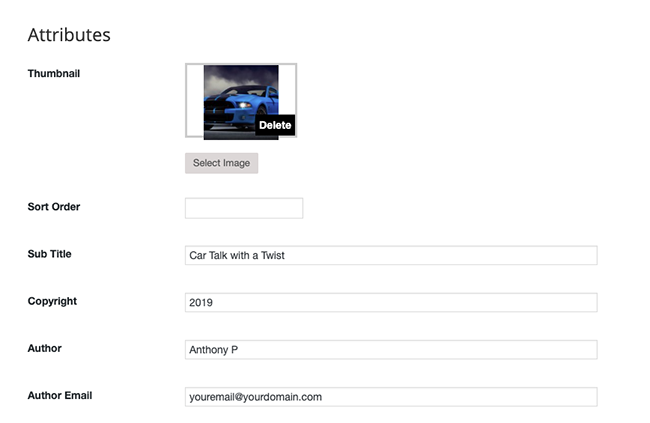 When choosing Categories, we have pre-populated the auto-suggestions from the official iTunes categories.  You can add a podcast to as many categories as you'd like.

DFP Video Interstitial Pre-roll
You can add video pre-roll that will play before your podcast via Google Ad Manager (DFP).  Just enter your DFP Ad Tag (VAST URL) in the input field.  You can also enter how many seconds your audience must view the video before seeing a "skip" button to go right to the podcast.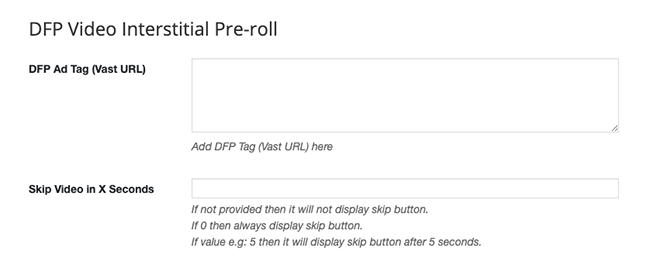 Subscriber Links
The Subscriber Links serve two purposes.
1) Submit Your Podcast to 3rd Party Services
If you look under the label for each Subscriber Link, we've given you a link to each service where you can submit your podcast to their service.
2) Allow your Audience to Submit to Your Podcast Via 3rd Party Services
Now what do you put in each of these fields?  Well each service you submit your podcast to will give you as link to give to your audience so they can subscribe to your podcast via their service.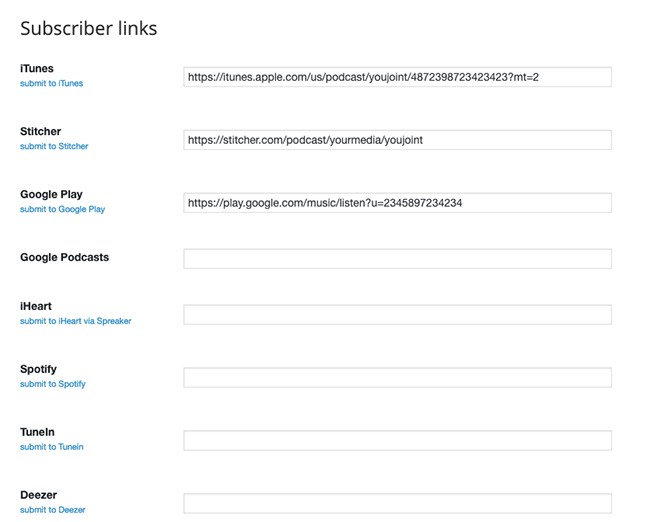 On the frontend of your website, these links will display in your audio player as well as the page for the selected Podcast.  Note that since we filled out the Subscriber links for iTunes, Stitcher and Google Play, those subscribe links are available to your audience on the front end player (and Podcast page).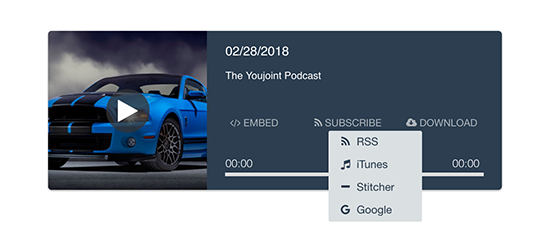 Social Links (Optional)
If your theme supports social links on the Podcast page, you can add them in the Social section.  You can add a Title, Link, and Image which will display on the Podcast page for this podcast.
Saving Your Podcast
Once you have filled out all of the fields that are necessary for your usage of the podcast, click the Update button to save all of the new data fields.

Your fully-featured Podcast is now created and you are ready to begin adding audio episodes to it!