You have 20 minutes remaining for the course
Podcasts and Podcasting

0/3

Monetizing Podcasts with Pre-Roll

0/1

Audio and Pre-Roll Stats

0/1

Submitting Your Podcast To Podcast Services

0/4
How to Submit your podcast to Google Podcasts
Submitting your Podcast to Google Podcasts is easy as long as you've setup your podcast properly.
Preparing Your Podcast for Submission
Make sure you have filled out necessary fields for each podcast you are submitting to Google Podcasts in OneCMS.  Your Podcasts can be accessed via Audio > Podcasts in the OneCMS dashboard.  When editing the podcast, scroll down to the Attributes section, these fields are all included in the feed you'll be submitting to Google Podcasts.
Make sure you've filled out the Attributes section of the Podcast edit screen in OneCMS.
It's important to note that your podcast must contain at least one episode.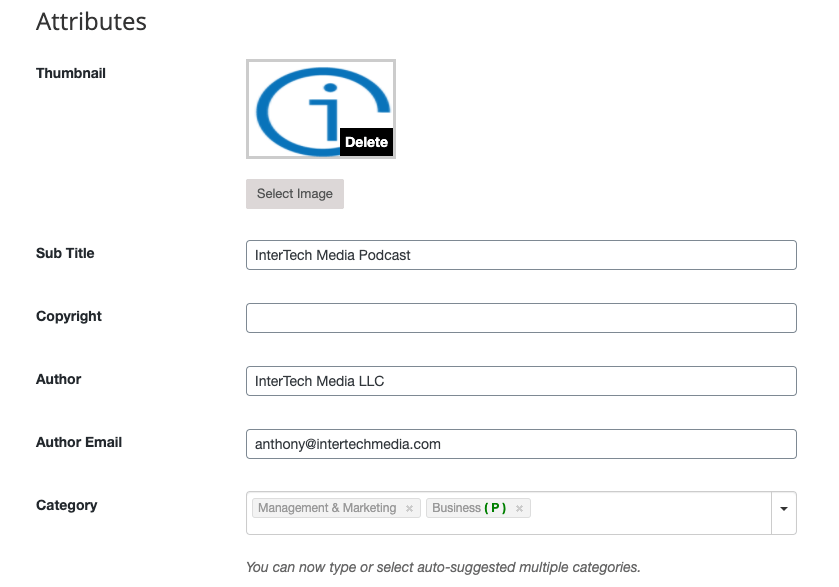 Once all the necessary fields have been filled out, save the Podcast.  Before you leave, copy the Episode Feed URL.  This is the feed URL you'll be submitting to Google Podcasts for review.

Submitting Your Podcast to Google Podcasts
1. Check if Google has already found your RSS Feed
Unlike other podcast directories that require you to manually submit your show, Google leans on their search technology to crawl the internet for podcasts to include in their new app. This means that Google should find your podcast and include it in the Google Podcasts app automatically.
To verify that Google has indexed your podcast (also known as your "podcast feed"), insert your Podcast RSS feed URL into the Google Direct Link Generator and click Generate. If Google Podcasts has already added your show you'll get a direct link to share with your audience.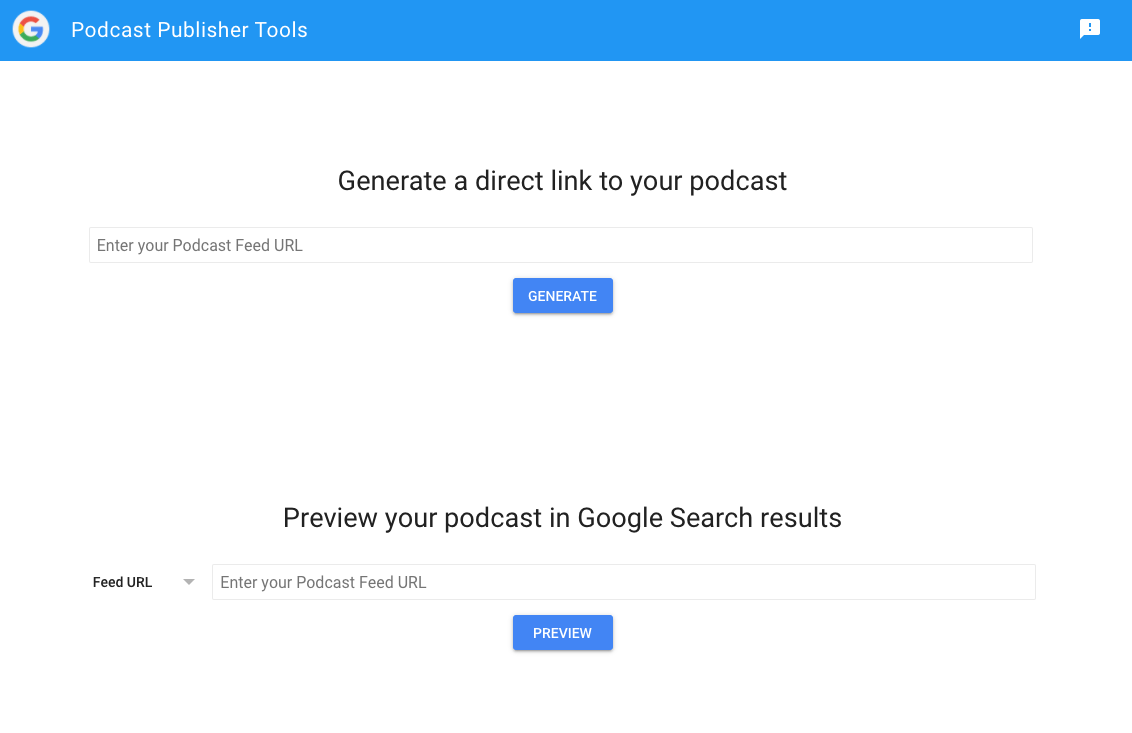 If your podcast is listed then you don't need to do anything else. People are already able to find your show on Google Podcasts.
If your podcast is not in Google Podcasts you'll get an error that says "This RSS feed is not currently indexed by Google Podcasts." If that happens don't worry. Just follow the rest of the steps below.
2. Register your RSS feed URL with Google
If your podcast doesn't show up in Google's Direct Link Generator, you can ask Google to crawl your website to expedite the process of getting into the Google Podcasts.
Your website needs to be compatible with Google Podcasts for this to have any effect, and it needs to have a link to your RSS feed. You can request Google to index your site from Google Search Console.
If you can't submit your website (example, you don't have a Search Console setup) it seems to help when you submit your podcast to Google Play Music.
3. Wait for Google to index your RSS feed
If you follow all these steps it can take a few days for Google to index your RSS feed, though we've seen podcasts get added in a couple of hours. If you don't see your podcast in Google Podcasts within a week, then you'll want to verify that your podcast website is compatible with Google Podcast.
Google Podcasts FAQs
What's the difference between Google Podcasts and Google Play Podcasts?
Google Podcasts is a stand-alone app that indexes all the podcasts in the world. It's available worldwide and it will add most podcasts automatically. On the other hand, Google Play Podcasts is the podcasting portion of the Google Play Music app. The selection is a bit smaller since podcasters have to submit their podcast to Google Play.
Why do you want to be in Google Podcasts?
86.2% of the world's smartphones are on Android. Being listed in Google Podcasts means your podcast is available to 1.72 billion potential listeners that didn't have an easy way of finding you before. It also means that your podcast will be available on smart devices like Google Home.
We hope this is helpful! If you have any questions please feel free to leave them in the comments.