You have 19 minutes remaining for the course
Podcasts and Podcasting

0/3

Monetizing Podcasts with Pre-Roll

0/1

Audio and Pre-Roll Stats

0/1

Submitting Your Podcast To Podcast Services

0/4
How to Submit Your Podcast to Spotify
Submitting your Podcast to Spotify is easy as long as you've setup your podcast properly.
Preparing Your Podcast for Submission
Make sure you have filled out necessary fields for each podcast you are submitting to Spotify in OneCMS.  Your Podcasts can be accessed via Audio > Podcasts in the OneCMS dashboard.  When editing the podcast, scroll down to the Attributes section, these fields are all included in the feed you'll be submitting to Spotify.
Make sure you've filled out the Attributes section of the Podcast edit screen in OneCMS.
It's important to note that your podcast must contain at least one episode.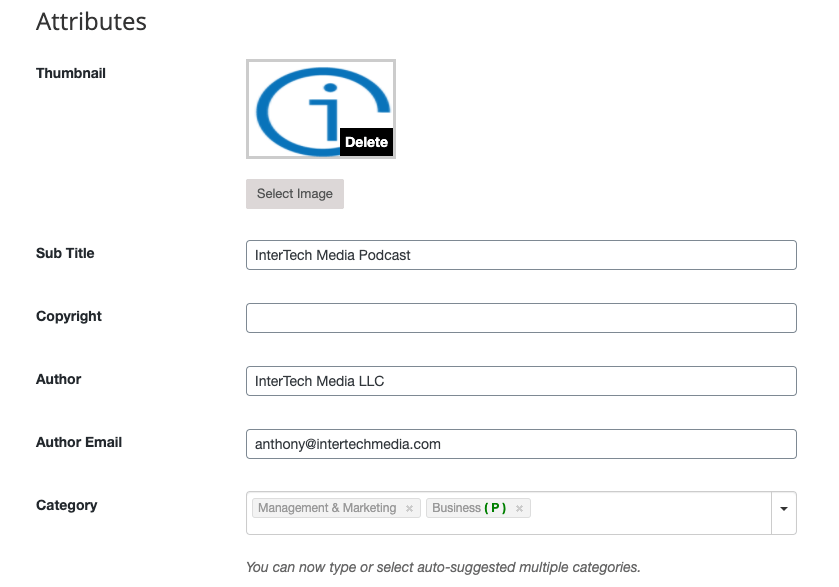 Once all the necessary fields have been filled out, save the Podcast.  Before you leave, copy the Episode Feed URL.  This is the feed URL you'll be submitting to Spotify for review.

Submitting Your Podcast to Spotify
Go to podcasters.spotify.com and click "Get Started" to begin the submission process.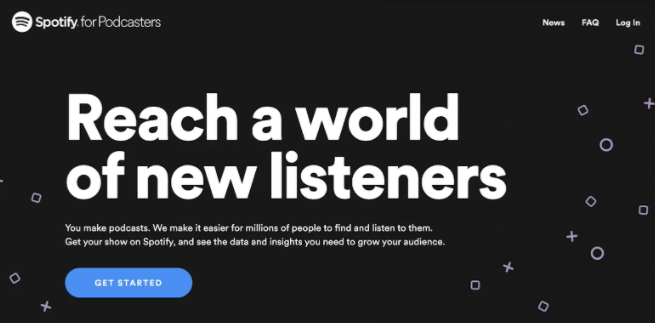 Spotify will prompt you to log in to your Spotify account. If you don't have one, you can log in using your Facebook account or create a free account.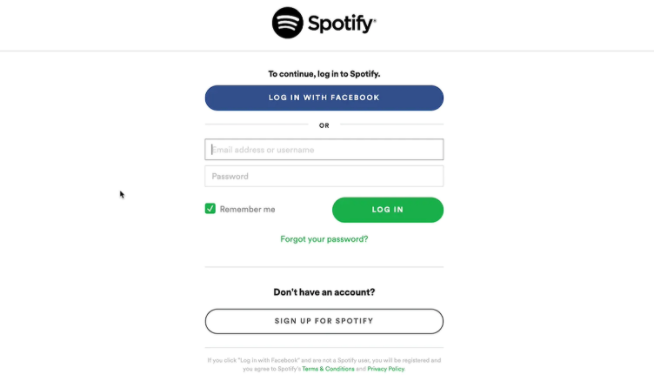 In your Spotify dashboard, click the button that says "Get Started" to submit a new podcast.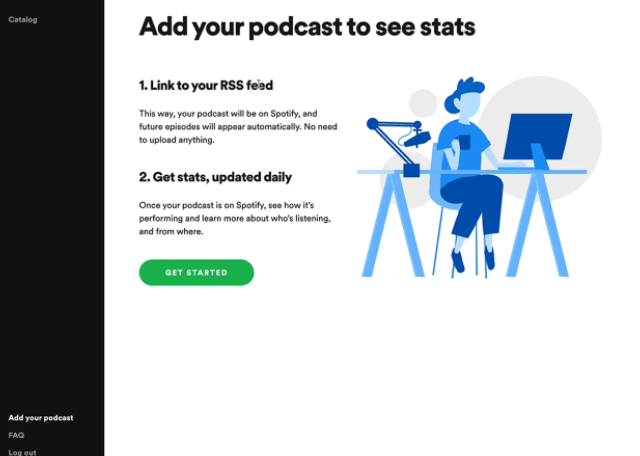 Add Podcast RSS feed
The first thing Spotify needs from you is your RSS feed. This is the URL that allows Spotify to pull new podcast episodes into their app for your listening audience.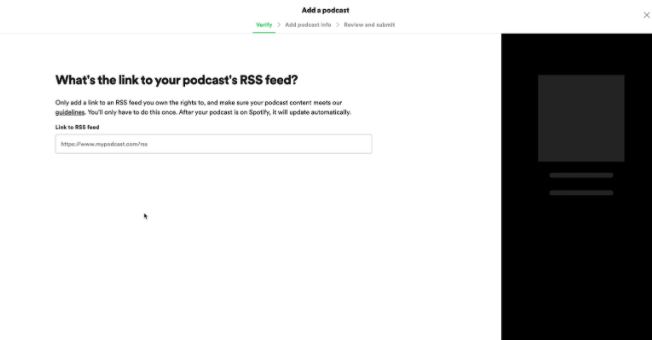 Once Spotify has verified your RSS feed, it will show you the information it pulled from your podcast. This includes your podcast artwork, podcast title, artist/host, podcast description, and your primary category.
If everything looks the way it should, click "Next" in the bottom right corner of your screen to continue.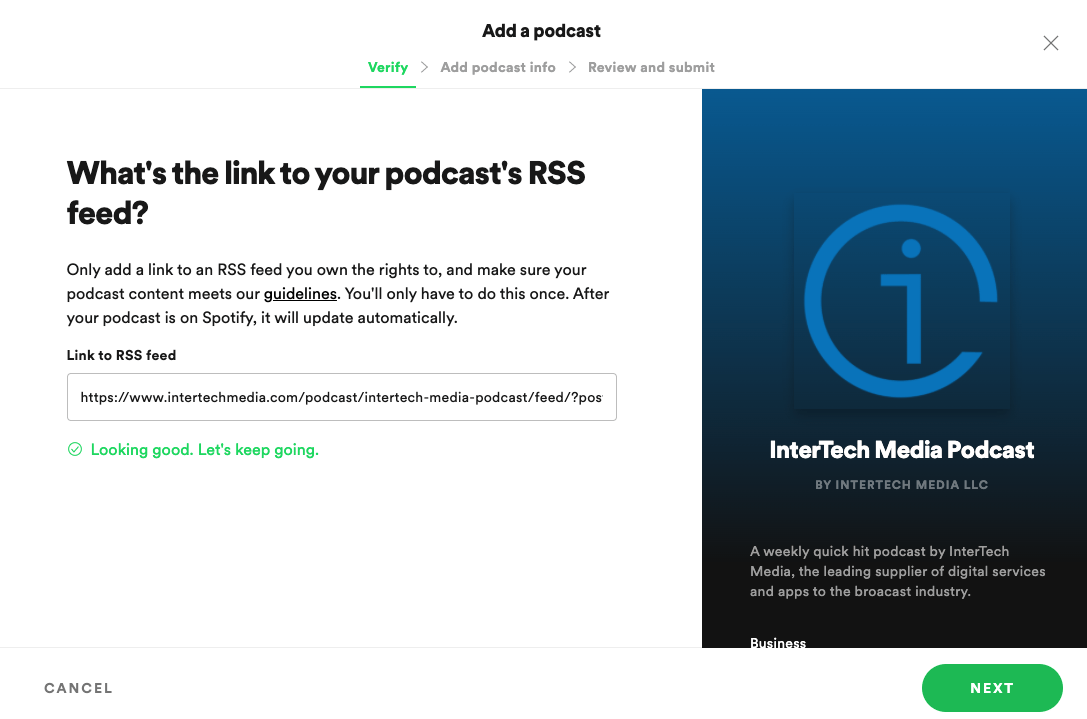 Verify Ownership
Next, Spotify needs to verify that you're submitting your own podcast to their platform.   Click the Send Code button.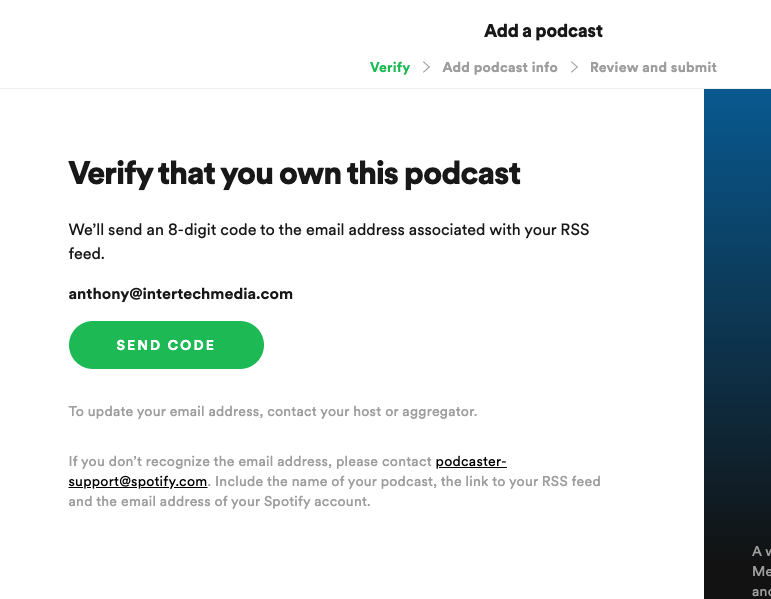 Spotify sends a message to the email associated with your RSS feed with a verification code.  Copy the verification code.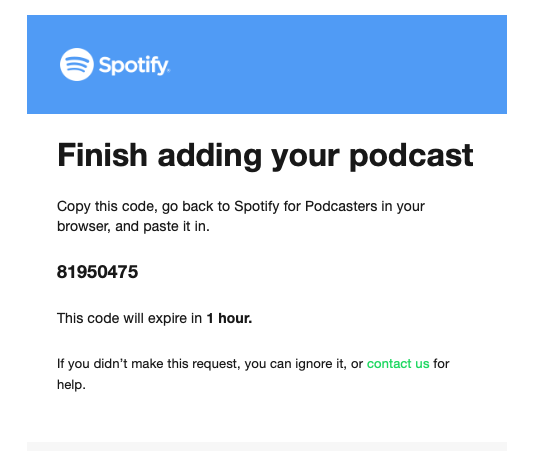 Copy and paste that code into the form to verify ownership. Then click "Next" to continue.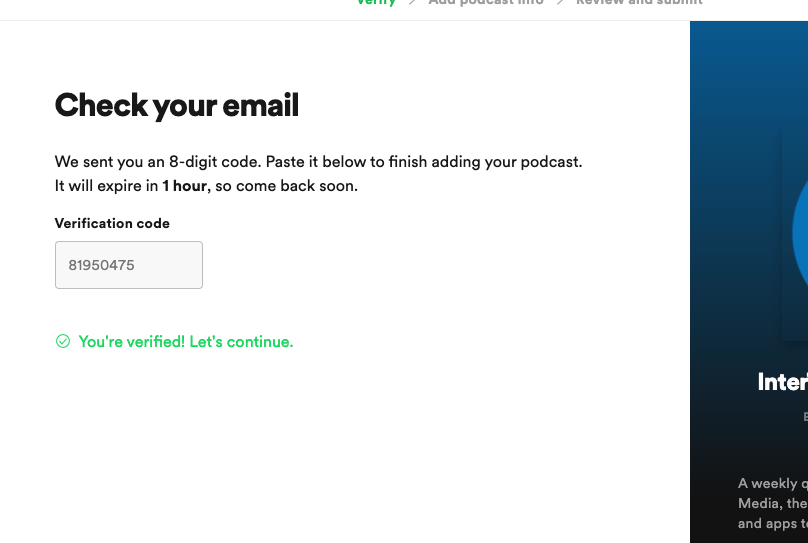 Add Additional Information
Here is some additional information that Spotify needs to organize and categorize your podcast within their directory accurately. Choose the option that best describes your podcast from each of the dropdown menus.
Once you've selected the primary category of your podcast, Spotify will show you a list of sub-categories associated with that category. You can choose up to 3 sub-categories that accurately describe your podcast.
When you finish, click "Next" to continue.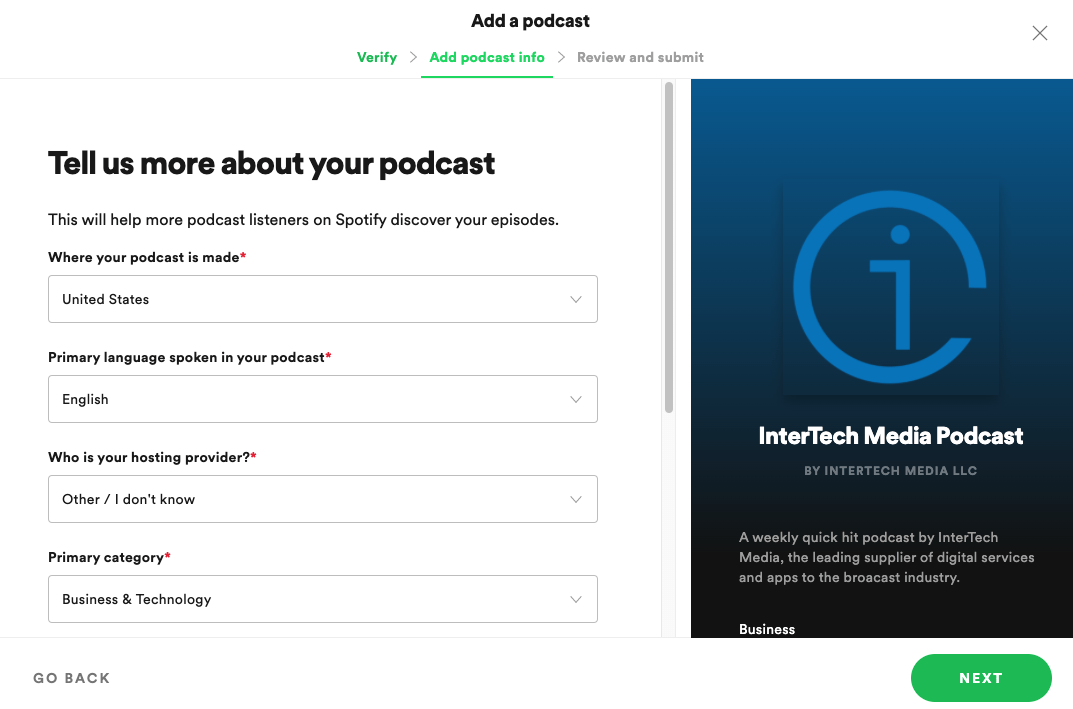 On this screen, Spotify allows you to review the information you just submitted. If you need to change something, click the button that says "Go Back" in the bottom left corner of your screen.
If everything looks good, click "Submit" to submit your Podcast to Spotify.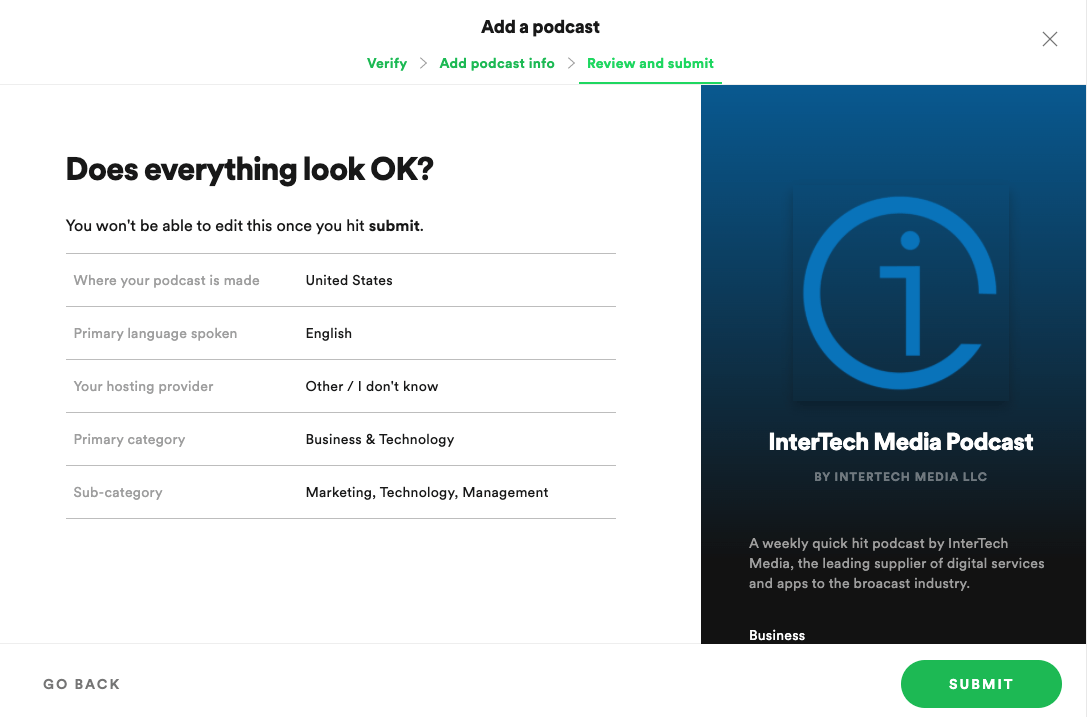 Congratulations! You've successfully submitted your podcast to Spotify, and it should be visible in the app within a few hours.
Once your podcast starts to gain listeners, you can log in to your Spotify dashboard to view your podcasting stats, podcast downloads, and add new podcasts as well (just click the "Add Your Podcast" tab on the left side of your screen and have your podcast's RSS feed handy).