You have 5142 weeks 6 days remaining for the course
Creating Posts (Advanced Features)
Excerpts
You can use this box to add a short summary or excerpt for your post.
If you don't add an Excerpt to a post, the first couple hundred characters of your post will serve as the excerpt automatically where it is featured.
An example of a post Excerpt is highlighted below:

Push Bins
Push Bins are a lot like Categories, only their name does not display on the frontend of your website.
Why would you use Push Bins over Categories?
Let's say you have a specific area of your homepage you want content to be featured.  You might name a Push Bin Upper Right Homepage – Next to Flipper.  Now, this Push Bin name will never show up on your website like a category does, so you can be verbose in your naming schemes and use "internal" wording without worrying how it will look on your website.
You could also use Push Bins to Share content.  If you link a Push Bin with a Share Bin, anytime you publish a piece of content to that Push Bin, it will be shared to other websites you have in the One CMS network automatically.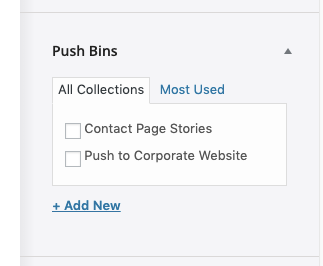 Post Expirator
The Post Expirator allows you to schedule when the post should not be available on your website any longer.  You tell One CMS when you want the content to expire and we take care of the rest!First, check the Enable Post Expiration checkbox which enables the remainder of the fields.
Enter the Year, Month, Date and Time you want the content to be expired.  Alternatively, you can also enter how many days in the future you want the content to expire.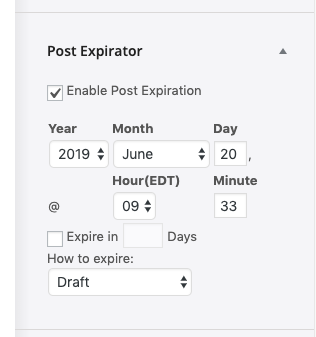 You can also chose how you want the system to expire your content.  By default, it will set the content to Draft status, but you can also choose a number of different options as shown below.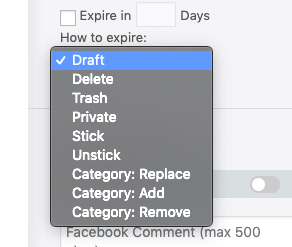 Social Sharing
At the same time you publish your post to your website, you can also share the post to your Facebook and Twitter accounts.
In the right column, you can select one or more of your linked Facebook and Twitter accounts to share the post to (and include a status update at the same time).