You have 5142 weeks 6 days remaining for the course
Viewing VIP Club Reports
Alright!  You've sent your email, but that's not where it ends.  You want to know how your various email campaigns perform so you can tweak them as you send new blasts.  That where VIP Club Reports comes in.
To see your reports, click the Reports tab in VIP Club

 Here you'll see a listing of all your previously sent emails and some basic statistics about them.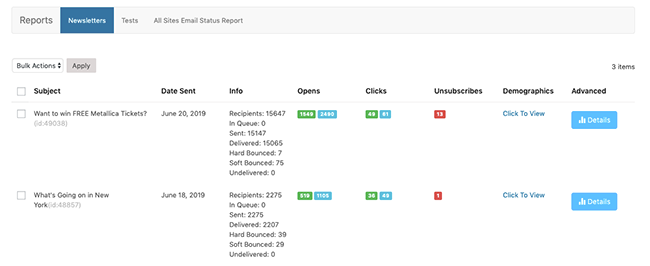 Let's zoom in on those fields.  First off you'll see the Name (subject) of the email along with the date it was sent and how many Recipients the mail was sent to, the number that were actually sent, the number delivered and how many bounces the email received.

Next you'll see the email engagement statistics.  How many recipients opened the email (unique / total) and how many clicked something in the email (unique / total).  You'll also see how many recipients unsubscribed from the unsubscribe link in this email.

Finally, you can access more detailed stats about the email using the Demographics and Advanced links.
Demographics Data
When clicking the Demographics report link, you'll see a breakdown of the recipients of the email by Age, Gender and Zip Code.  You can use the buttons in the popup report to see demographics by Delivered, Bounced, Opens, Clicks and Unsubscribes.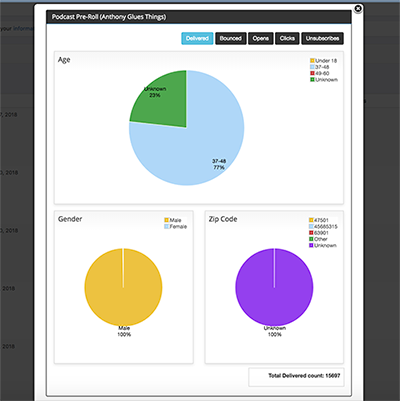 Advanced Email Data
Clicking the Advanced Details button will drill down deep into statistics of the email.
First, you'll see how the email performed over time with graph details showing Opens, and Clicks (unique and total)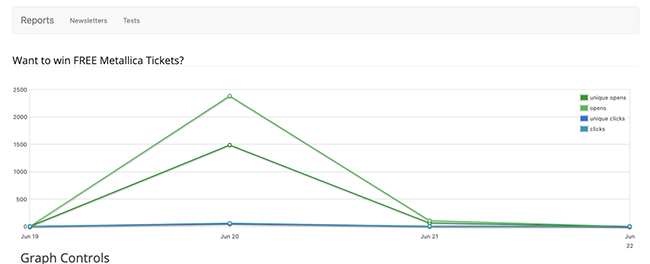 Next, you'll see general stats on the email itself.  How many recipients, the open rate and various other details.

Finally you'll be presented with a list of every subscriber who opened the email.  Details about the subscriber such as what device they viewed the email on; what action they performed, what time they performed the action and their email address and IP address.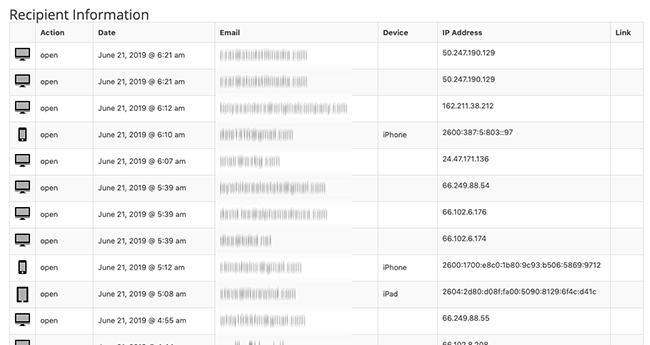 Subscribers who clicked a link in the email will have a button to see which URL they were directed to.