You have 20 minutes remaining for the course
Overview and Settings

0/2

Video Players & Playlists

0/2

Video Episodes

0/2

Pre-Roll Advertisements

0/1

Widgets

0/1

Statistics

0/2
Video Players
Players are used to display videos on your website.  Creating different players have various purposes especially if you are using DFP Advertising for your Pre-roll and not the built-in Video Pre-roll.  We'll go into the details below.
Creating Players
No matter what, you need at least one player on your website.  (you'll also want to set a default player in the Video Settings page)
If you NOT are using DFP or external advertising for your pre-roll, you probably only need to create one player depending on your use case.
To access the Players screen click the Players link in the Video menu.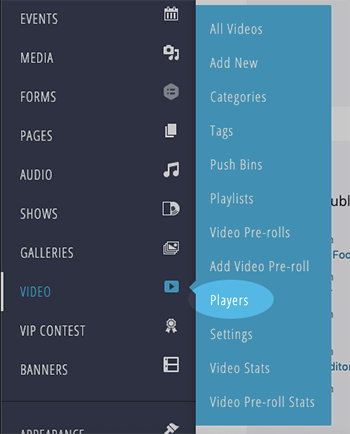 First, we'll go over creating a player for non-DFP Advertising clients.
Players for Clients not using DFP Advertising for Pre-roll
You'll see you start off with no players.

Since we need at least one player for our website, let's go ahead and create one.  Click the Add New Player button.  This will open a modal over the page where you can give the player a name and save it.  That was pretty easy!

Once you save the player it will display in the Player listing.  It will also display the Player Key.  This is a special code that you can use whenever you want to use this player anywhere on your website.  Don't worry, you don't need to remember it, once we get to embedding video into your posts, you'll see that our tools do all the work for you.

Now, why would you want multiple players if you don't use DFP Advertising?  Well, you may want to style your players differently depending on where they show up on your website.  For that, we also include the player name as CSS selectors in the source of the players when they are embedded on your website.  So if you have a specially styled player for your local High School, you can create a player and target those selectors so only the specific player gets those styles.

Players for Clients that use DFP Advertising for Pre-roll
The main use for having multiple players is for those that use DFP Advertising for their Pre-Roll.  As with most video providers, you can add Ad Tag URLs to your players so you can target specific Pre-roll advertising to different areas of your website.
Sample use case:  You have a player on your Homepage and a player for Your Local Sports.  You want to traffic different pre-roll to each of those video players. You can do that by associating a different Ad Tag URL to each of them and traffic separately within DFP.
If you have DFP Pre-Roll enabled in the Video Settings, you'll see an extra field when creating or editing a player for Ad Tag URL.  Just paste in the Ad Tag URL here and any pre-roll you traffic to that Ad Tag will play before videos that are viewed via this player.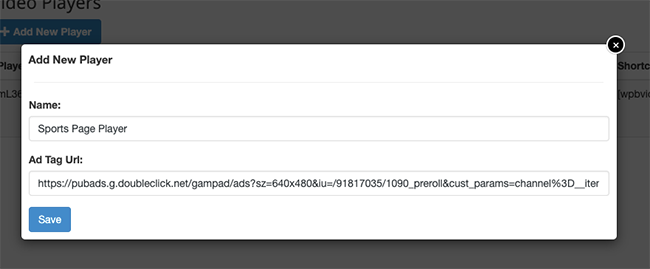 The Ad Tag URL will also display on the Player listing page.  Any videos played through this player will include the pre-roll specific in that DFP Ad Tag.