You have 20 minutes remaining for the course
Overview and Settings

0/2

Video Players & Playlists

0/2

Video Episodes

0/2

Pre-Roll Advertisements

0/1

Widgets

0/1

Statistics

0/2
Video Pre-Roll
Looking to monetize your videos? Add Pre-Roll Advertisements to your content! A pre-roll ad is a promotional video message that plays before the content the user has selected. Pre-roll ads are the most common form of video advertisement.  One CMS Video Pre-Rolls are easy to upload and associate with a playlist or single video.  Additionally, you can determine how long a user must watch a pre-roll advertisement before they are allowed to "skip" right to the content.
Using DFP Ad Tags for your Pre-Roll
?  You can skip this tutorial.  You'll be adding your Ad Tags directly to the
Video Players
.
Creating Pre-Roll Ads
To access all of your previously created Pre-Rolls, click the Video Pre-Rolls link in the Video menu.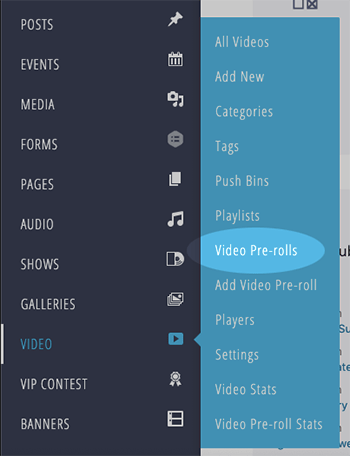 This will bring you to the Pre-Roll listing screen where any pre-rolls you previously created will be listed. Let's create a new pre-roll by clicking the Add New button at the top of the page.

This brings up to the Create New Pre-roll screen.  It is very similar to the screen you saw when we were creating video episodes.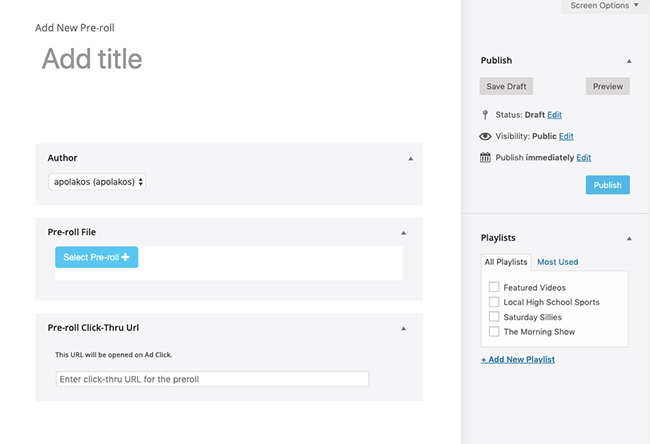 First, give the advertisement a Name (this will not be displayed on the front end of your website)

Just like with Video Episodes, you'll upload the Pre-Roll Video file and let the system transcode it.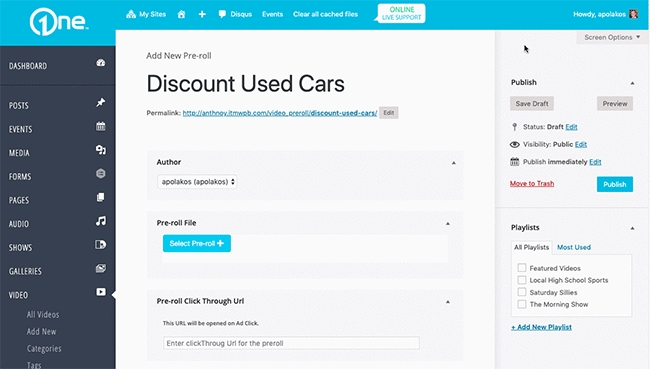 When the file has finished processing, you can preview it right on the Add Pre-Roll screen.
You can optionally add a Click-Through URL so if user click the video player while the Pre-roll Advertisement is playing, it will redirect them to the URL you input.

Now select which Playlists you want to associate the Pre-Roll Advertisements with.  Notice you can associate the ad with all Playlists: Manual or Dynamic.  You can associate an advertisement with multiple Playlists.
When you associate a Pre-Roll Ad with a playlist, it will play before any video episode within those playlists.  If you have multiple Pre-Roll ads associated with a playlist, they will rotate.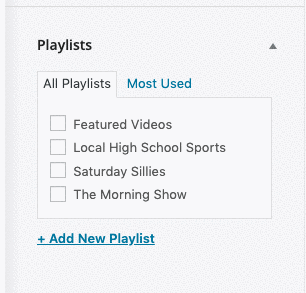 That's it!  You are now ready to save and Publish the Pre-Roll advertisement by clicking the blue Publish button.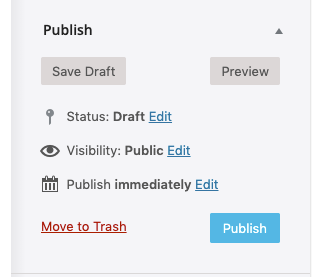 Your Pre-Roll will now be live and also displayed in the Pre-Roll listing screen.

Pre-Roll Skip Options
A reminder from the Video Settings Tutorial.  You have an option to control how long a user must watch a pre-roll ad before they are allowed to "Skip" to the video content.  This setting is located in the Video Settings screen.
By default, this is setup as 5 seconds, but you can set it to any numeric value you want.
If you set it to 0, the skip button will always display.
If you remove all values, it will never display and the entire pre-roll advertisement will play before moving on to the video episode.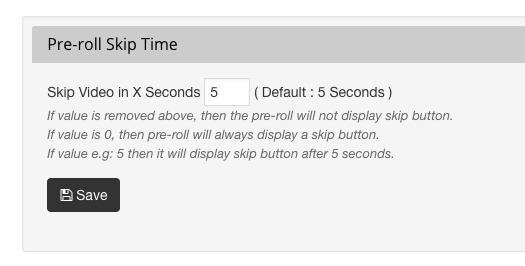 What Your Visitors Experience
A Viewer will see the poster image for the video episode when it is in the ready state.  When they click to play the video, they will see the Pre-Roll advertisement first.  If you have Pre-Roll Skip enabled, they will also see a countdown in the upper right corner of the video that will countdown until they can skip to the video content.  If you do not have Pre-Roll Skip enabled, the video Pre-Roll will play in its entirety after which, the video content will begin.