You have 20 minutes remaining for the course
Overview and Settings

0/2

Video Players & Playlists

0/2

Video Episodes

0/2

Pre-Roll Advertisements

0/1

Widgets

0/1

Statistics

0/2
Viewing Bandwidth and Storage Usage
One CMS offers all clients the ability to view how much bandwidth they have used for the month to date and past months historically.  They can also view how much storage they are currently using.  We break down both of these usage fields by media type.  Video, Audio, Images and Other (non-media files like pdf, etc…)
Storage is the total amount of space on a server your website is using, especially media files used in the content of your website. These files can be anything from images and pdfs to audio and video files.
Bandwidth is the amount of data transfer that occurs between your website and end users. The size of the files downloaded can account for how much bandwidth is used up at that given moment. Besides people viewing your website, bandwidth is used when someone downloads a file from the server.
Viewing your Bandwidth and Storage Usage
To view your Data Usage, click the Data Usage menu link in the One CMS Dashboard.

The Data Usage screen will display.  It is broken down into a few main sections.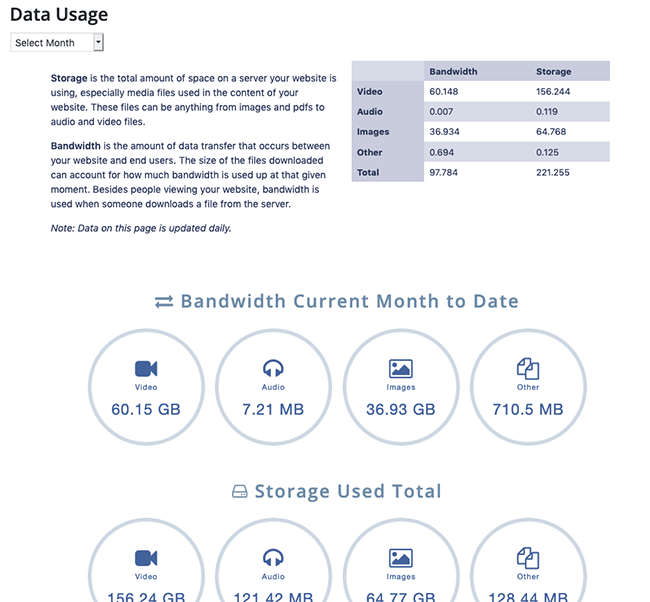 By default, the data displayed will be for the current month to date.  However, you can look at historical data by using the month selector dropdown at the top of the page.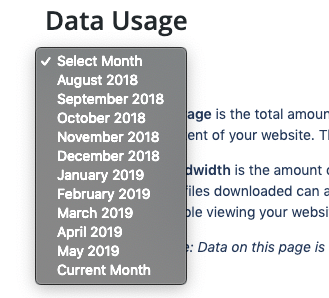 The first section breaks down all of the data into a table format and also shows you what your limits are.
Note that Bandwidth is always measured per month and Storage is always measured by the total used.
Example:
In the screenshot below, in the Video row, the website has used 60.148 GB of Bandwidth .
They have also used 156.244 GB of Storage for Videos.

The next two sections show that same data in graph form.
Bandwidth Usage

Storage Usage