You have 20 minutes remaining for the course
Overview and Settings

0/2

Video Players & Playlists

0/2

Video Episodes

0/2

Pre-Roll Advertisements

0/1

Widgets

0/1

Statistics

0/2
Video Overview
Video is a built-in Enterprise class video hosting and serving system that brings you the features that the expensive guys only make available at a much higher price point.  Best of all, you can manage it all from your One CMS Dashboard!
What can you do with WPB Video?
Create and manage Playlists
Create Players
Upload videos and manually add them to a Playlist or dynamically add them to playlist based on tags
Insert your videos directly into content.
Upload and manage Pre-Roll Advertisements with WPB Video's built-in Video Pre-Roll system
Option to use DFP Pre-Roll Advertisements instead of built-in Pre-Roll
Get full statistics on your episode and pre-roll plays with completion data and demographics.
How Does Video Work?
One CMS Video is extremely flexible but also extremely easy to use.
It basically comes down to a simple workflow:
Upload a Video
Add it to a Playlist (manually or dynamically based on tags)
Insert the Video into your content or…
…if the selected playlist you added the video to is already tied to a playlist player that exists on your website already (like your homepage) the video will automatically show up there!
You can also monetize your video by uploading a pre-roll advertisement and associating it with a playlist or individual episode.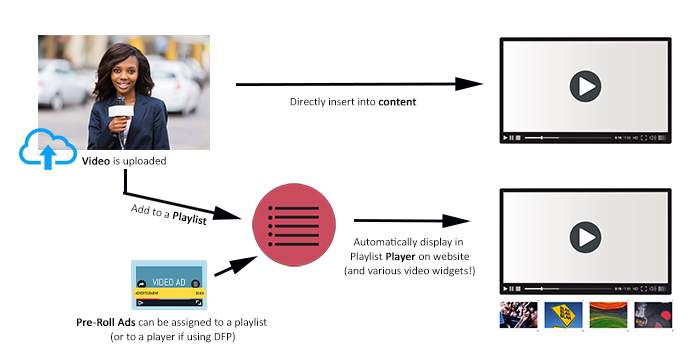 That's it!  We'll go much deeper into these concepts in the following tutorials.  Enjoy!