You have 5142 weeks 6 days remaining for the course
Overview

0/1

Creating and Targeting Banners

0/3

Banner Lightwindow

0/1

Promo Schedule

0/4
Banner Lightwindow
The Banner Lightwindow allows you to get advertisements in front of your website visitors in a new, unique way.  Instead of your banner displaying in a sidebar or in specific location, your banner will appear ON TOP of the page, centered horizontally, vertically while the webpage behind it is slightly grayed out.  You can control how often the lightwindow takes over the page and how long a visitor has before they can close it.
To access the Banner Lightwindow settings, click Banner > Banner Lightwindow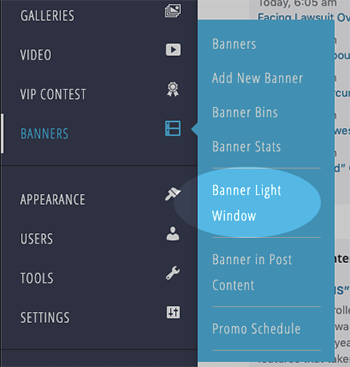 This brings you to the Banner Lightwindow settings screen.  There is only a handful of settings and it is very intuitive.  Let's go over it.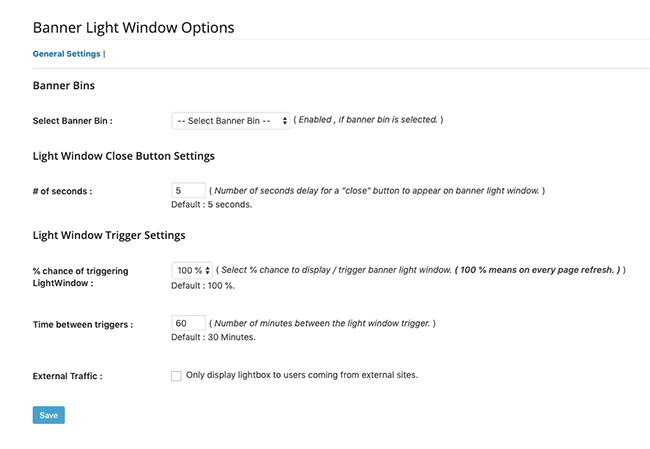 Banner Lightwindow Settings
The first setting is what Banner Bin you want to pull banners from into the lightwindow.  (note: you can only run one banner lightwindow at a time)
The great thing about the Banner Lightwindow is that it will obey the settings you set on each banner.  If you have it set to Run of Site, the lightwindow can show up on any page, but if you have the banner targeted, it will only display on the target page.  (Need a refresher on targeting banners?)


Once the Lightwindow is displaying, your user cannot close it until the close button is active.  You can set in seconds, how long the user has to wait until they can close the lightwindow.

Lightwindow Triggers
Finally you can set the actions that trigger the lightwindow to display.
% chance of triggering LightWindow :  This is the threshold on what the chances are that the lightwindow displays for a user. It is important to note that the banner will still obey the targeting settings set at the banner level.  Even if you have the settings set to 100% (the default), the banner will NOT display everytime the user visits the website.  The next setting tells the lightwindow how long to pause between impressions.
Time between triggers:  This setting tell the banner lightwindow to only show a user the banner after a certain amount of time since the last time they saw the lightwindow. The default settings is 30 minutes.
External Traffic: Checking this box will only show the lightwindow to visitors who access your website when they were referred from an external website.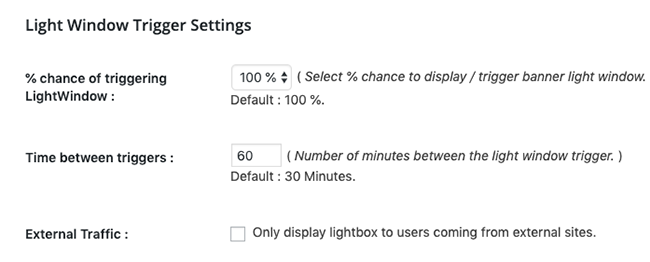 Once you have fill out all of the required fields, click the Save button.
Banner Lightwindow on your Website
The Banner Lightwindow will now be active on your website.