You have 5142 weeks 6 days remaining for the course
Creating Contests

0/4

Adding Custom Questions

0/1

Picking Winners

0/1
Viewing Contest Results and Picking a Winner
A contest isn't over when the countdown timer ends. It ends when you choose a winner.  One CMS Contests makes it easy to see who entered your contests as well as manually or randomly select a winner from all entrants or a subset of entrants.
From the Contest Listing screen, you'll see your list of Contests.  Hover over the name of the contest you want to view the entrants for and click View Results.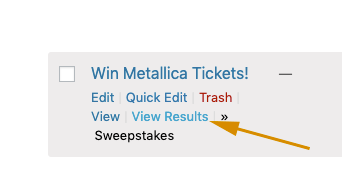 This will take you to a listing of all the entrants for the selected Contest.  Here you'll see all of their data as well as any custom question or UGC uploads they included.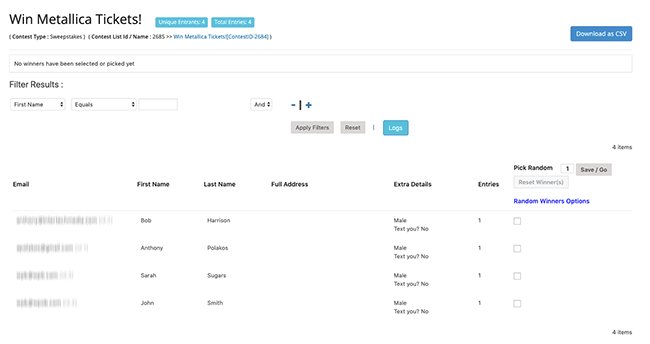 Filtering Results
When you are ready to pick a winner, you can pick from all the entrants, or perhaps you only want to pick from a subset of entrants….for instance only those that answered a question a certain way, or from a certain demographic.  You can do that by filtering the results.
In the Filter Results section, you can build a query to only show the entrants you want based off of their data.  Here I added a filter to only show entrants over the age of 18 and only entrants that live in NY.  I could add more filters by pressing the + (plus) button and add more criteria.
Click the Apply Filter button once you have completed your query.  This will automatically filter out the entrants and only show the ones that match your criteria.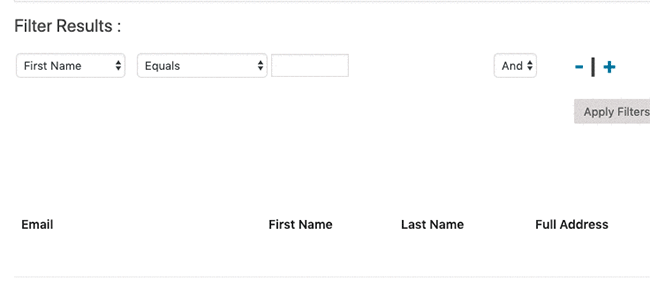 Picking a Winner
There's two ways to pick a winner in One CMS Contests.  Manually or Randomly.
Picking Winners Manually
To manually pick a winner, simply check the box next to their name and click the Save / Go button.  That user(s) will be the winner of the Contest.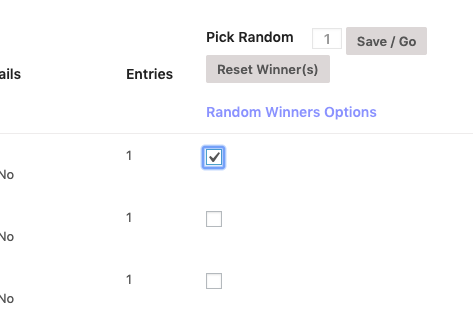 Picking Winners Randomly
There's two ways to randomly select a winner.
Simple Random Winner Selection
To randomly pick a winner(s).  Enter how many winners the contest should have in the Pick Random field and click the Save / Go button.  This will randomly pick the number of entrants you specified as winners.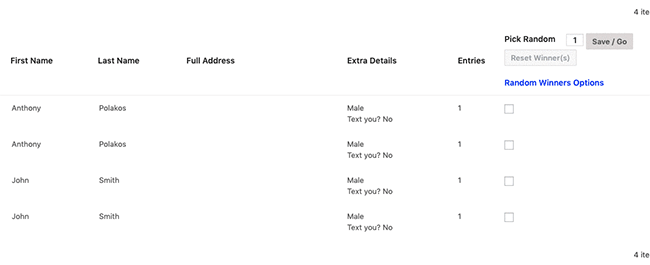 Picking Winners using the Randomizer
You can also pick a random winner based on a certain set of criteria and make any winners ineligible to win another contest for a specific amount of time.
Click the  Random Winners Options link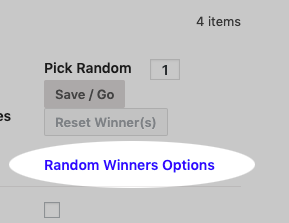 This will open a modal that allows you to set criteria to pick a random winner.
You can choose to only select from a pool of entrants who have not won in a certain amount of time or ever and then make the winner(s) ineligible for a specific amount of time as well.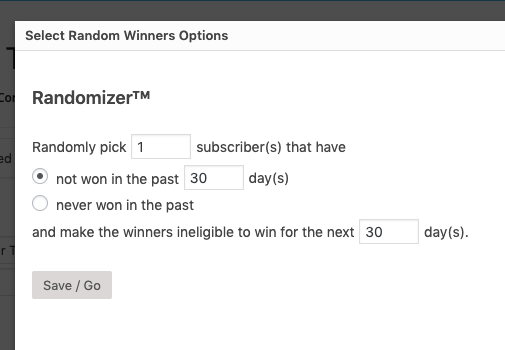 Note: The system does not contact the winners. That is up to your organization to determine the best way of letting the winners know of their prizes, etc…
Also, once you pick a winner, the Contest will end automatically even if there is time left in the contest settings.

Resetting the Winner(s)
If you made a mistake picking a winner or you realize they are not eligible.  You can reset the winners.  Just click the Reset Winner(s) button.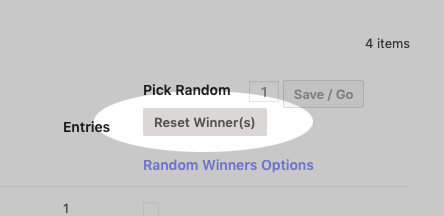 You'll receive a warning notice indicating that previous winners will be cleared out and if the contest is still active, new entries will be accepted.  Click OK.