You have 5142 weeks 6 days remaining for the course
Intro to VIP Club
Sending email e-newsletters to your audience is very beneficial. It's an effective way of keeping them updated about recent events, happenings, events you are sponsoring and more. Moreover, it drives user engagement with your website and your brand.
Sending professional HTML emails has never been so easier. Using One CMS Vip Club, you can create gorgeous HTML emails and send them right from your One CMS Dashboard to subscriber lists that you can import or have your audience sign up for.
In this tutorial, we'll give you a brief overview of the different parts of Vip Club and dig down deep into each part in the tutorials to follow.
Accessing VIP Club
To access the VIP Club, click the VIP Club link in the admin menu.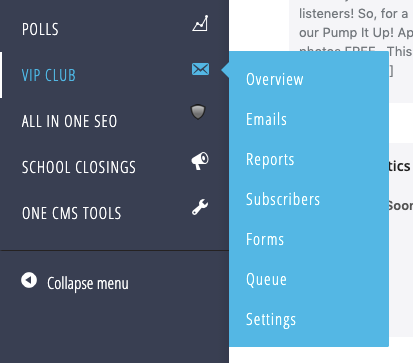 There's a lot of links you can access in the menu!  However, once you get things set up to your liking, most of the time you'll be in the first three (or four) screens.
Overview Screen
The Overview Screen is just as the title states.  It gives a high level overview of what's going on in your VIP Club.
At the top of the Overview screen, you'll see the complete number of Subscribers in all of your email lists, how many emails are currently being sent and how many are "stuck" in the queuing process.

The next section show graphs representing some general statistics of the last email you sent.

The next section on the Overview page shows you which subscriber's birthdays are today.  You can change the date to view birthdays for any day.  You also export users from the results as well.

The last section on the Overview page shows a listing of your Recent Subscribers and the Most Active Subscribers (who engages with your emails the most)

Other VIP Club Screens
You probably noticed there isn't much you can do on the Overview Screen.  However all of the other screens in the VIP Club have distinct roles to keep your mail and subscribers in check.  Let's check them out!

Reports – You'll find a treasure trove of data about your emails and the people who open it.  Demographics, opens over time, deices, clicks…and more! Learn about VIP Club Reports.
Queue – This shows the users that are being fed into the database when you are sending out emails.  You'll automatically sent to this screen as soon as you click Send on an email. You'll see the number of users in the queue go down as they are fed into the database.  Depending on the size of the list(s) you are sending to, this may take a few minutes. Learn about creating and sending emails.

Settings – For the most part, you'll never have to access this page because One CMS will have set these items up for you.  However, you can change the general style of your emails and other features.  However, realize that changing many of the settings here can have adverse effects if you don't know what you doing!  Learn about VIP Club Settings