You have 19 minutes remaining for the course
Voice Skills – Read Headlines
Your Skill may or may not have the ability to read headlines from your website.  The management of this is done in the Headlines tab of the Voice Skill Manager. If your skill does have this feature, there are two different options for reading headlines:
Single Category – your skill can only read headlines and stories from a single category.
Multiple Categories – your skill can read headlines and stories from multiple categories.
Single Category
If your Voice Skill is set up to read from one category you can choose the category it will read stories from at the top of the Headlines page in the category dropdown.

Below that you can choose which topic invocations will work on your skill to initiate reading headlines from the selected category.
For example, your audience would say "Alexa, ask <your skill name> to read the <top invocation name>". Since your headlines may not be news, you can enable a number of different topic invocations to best match the category you selected.
By default, "Headlines" will be selected.  ie "Alexa, ask 77 WABC to read the headlines". That would make the Alexa device begin reading the 5 most recent headlines from the Selected Category.  Alexa will also give the user the option of reading the entire story.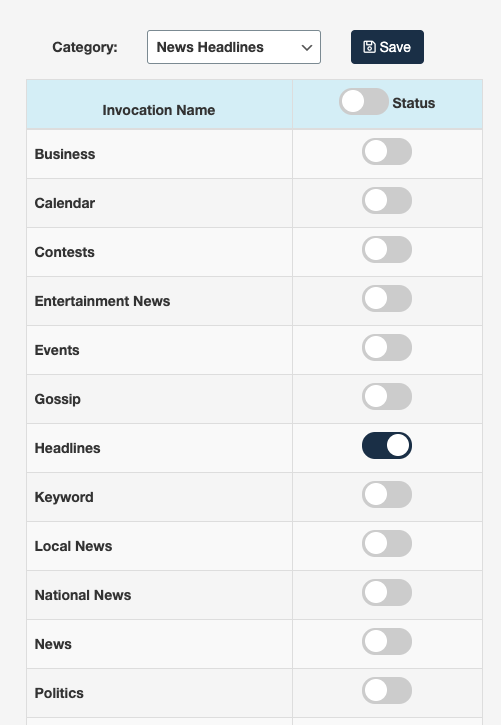 Multiple Categories
Multiple Categories work very similarly.  But each topic invocation allows you to select a specific category for Alexa to read from.  At the top of the screen, you'll notice a default category.  If Alexa does not find any stories in the topic invocation the user asks for, it will offer to read headlines from the default category.
So to use the example below, if a user said "Alexa ask <skill name> to read the Entertainment News" it would read the Entertainment category headlines.
But if they asked for "Business news", it would read stories from the Business headlines category.