You have 20 minutes remaining for the course
App Manager – News Content
The News Content section of the App Manager is where you select the content you want to be included on your app.
Breaking News and Alerts
Note:  This feature is not supported in all apps. 
Here you can select the categories for Breaking News  and Alerts.  These categories enable colored banners to display at the top of your app and each will only display if there is live content in them.  (To remove the alert or breaking news stripe, simply remove the live content from the selected category)

The Breaking News alert displays in a red container and the Alert displays in an Orange container in your app.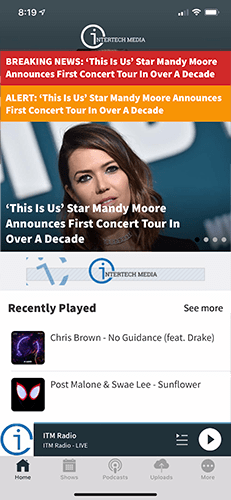 Slider Category
This section determines what displays in the Slider at the top of the home tab in your app.
Select a Category of content and how many posts you want to display in the slider.
Much like with podcasts and galleries, you can sort the order of content by clicking the Content Sorting link.
You can choose to not show post titles by checking the Hide Post Titles checkbox.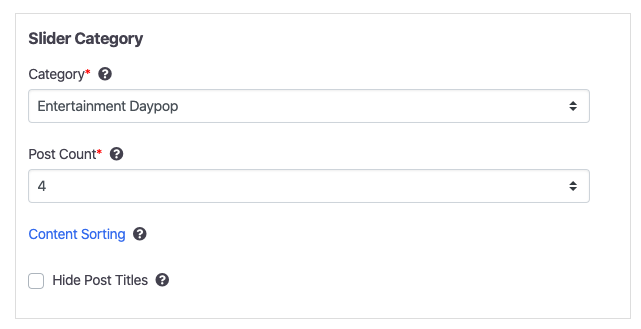 News Categories
The News Categories section sets up the various content sections on the home tab of your app.  You can add up to 5 content sections which each display content from a single category on your website.  Just add a Title for the News section and select what category of content will display.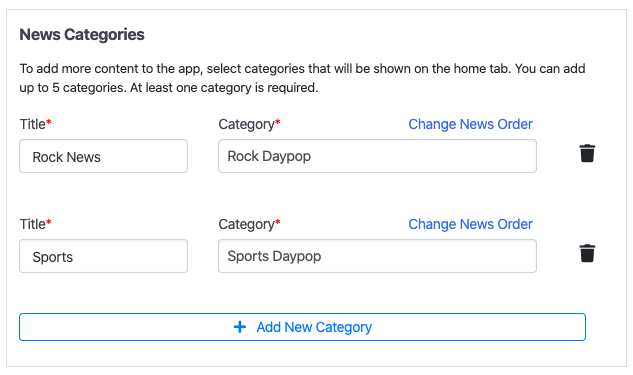 For reference, this determines the carousels of listing of content on your home tab.  In the settings above, we have Rock News and Sports selected to display.  On the app it would look like this: